5 Fall Hikes in Whatcom County
Whether you're looking to gain some serious elevation and spend a night in the mountains, or if you're bringing the whole family along for a contemplative walk in the woods, there's something here for everyone. Take advantage of the amazing fall weather and find your favorite new hike in Whatcom County!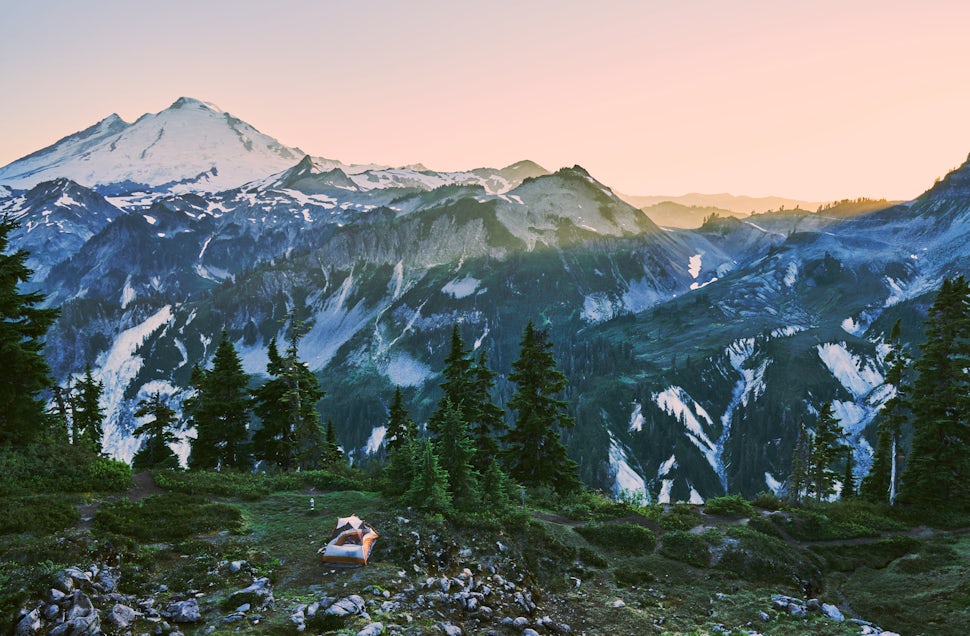 Fall is in full swing here in Whatcom County, and it's the perfect time of year to lace up those hiking boots and get into the woods. With sunshine, cool temps, and beautiful foliage, the mountains are calling Bellingham visitors outside and onto the trails. With the Chuckanuts to the South and the Mt. Baker Wilderness to the East, the options are plentiful for visitors and locals alike to enjoy fall hikes in Whatcom County.
Below you will find a list of 5 hikes from closest to Bellingham and easiest, to farthest and hardest. Whether you're looking to gain some serious elevation and spend a night in the mountains, or if you're bringing the whole family along for a contemplative walk in the woods, there's something here for everyone. Take advantage of the amazing fall weather and find your favorite new hike in Whatcom County!
Stimpson Family Nature Reserve Trail
The Stimpson Family Nature Reserve is one of Whatcom County's pristine natural spaces close to Bellingham city limits. Located adjacent to Lake Whatcom, and just a 10 minute drive from downtown, Stimpson offers about 350 acres of beautiful old growth forest and a wetland ecosystem that provides sanctuary to the many small mammals, birds, fish, and amphibians found in the area.
The reserve's trail system consists of two separate loops, a shorter loop around Geneva Pond, and a larger, Main Loop that climbs steadily through old growth forest consisting of Douglas Fir, Red Cedar, and Western Hemlock that will make you feel like you've traveled back to a time when dinosaurs roamed. On the Main Loop, you'll find carpets of voluminous moss, small streams and waterfalls, eventually reaching a high point that offers a decent view of Lake Whatcom.
If you take the Geneva Pond Loop, be sure to slow down and observe the wildlife surrounding the wetland. If you're lucky, you'll find beavers, woodpeckers, ducks, and so much more. The last time we hiked this loop we spotted a river otter and a Northern Pygmy Owl feeding on a small vole, a first for everyone in the group.
Fragrance Lake Trail
Heading South from Bellingham on scenic Chuckanut Drive, Fragrance Lake is part of Larrabee State Park. Directly across from the Larrabee park entrance, you'll find the trailhead to Fragrance Lake. The parking area is small, so be mindful of making room for other groups to park. Also, be sure to bring a Discover Pass (WA State Parking Pass) to avoid any tickets, there is a pass kiosk at the trailhead if you forget.
The trail for Fragrance Lake seems pretty steep to begin with, but thanks to the hard working trail crew from Washington Trails Association, is really quite pleasant. This hike takes you through beautiful second-growth and old growth forest as switchbacks zig and zag uphill.
Eventually, you will reach a small junction with smaller .2 mile trail that leads to a view looking over Samish Bay, the oyster beds of Taylor Shellfish, and the San Juan Islands. This is a great stop on the way up or on the way back with a well timed sunset and offers a great change of scenery from the less sunny aspects in the woods. Keep walking to find a quick downhill section before arriving at Fragrance Lake. The lake is most often still, quiet, and hosts pretty good fishing if you manage to pack a rod with you. In the summer, the lake offers a perfect swim after working up a sweat on the way up.
Enjoy the mirror views of the lake, and then take a quick walk around the lake, with plenty of small bridges and fascinating rock formations to admire.
Skyline Divide Trail
Skyline Divide, in the Mt. Baker-Snoqualmie National Forest, is a great step up for hikers looking to get into more difficult and steeper hikes off of the Mt. Baker Highway. Not only does Skyline Divide offer a great introduction to hikes in this area, but also hosts one of the finest views of the volcano in all of Whatcom County.
If you drive east from Bellingham through Glacier, take a right onto Glacier Creek Road, then a quick left onto FR-37, there will be signs pointing towards Skyline Divide. Take this windy dirt road for about 12 miles and drive with caution as there are usually more than a few deep potholes and sharp corners. Eventually you will end up at the trail head for Skyline Divide, with a privy and kiosk with a map showing hikers the route. Be sure to pack water, snacks, and warm layers as you may want to hang out at the top for an extended period of time.
The trail twists and turns through forest of silver fir and hemlock at a steady incline for about 1500 feet before you hit the ridgeline. With good weather and timing, the colors in the fall are stunning at the top. On clear days, look east and you'll be able to see all the way out to Bellingham Bay. Look south, and you'll see massive mountains and buttes as well as Mt. Baker in the distance with a beautiful ridge line trail in the foreground. This ridge line is the Skyline Divide. There are possible camping spots up here on the ridge, and you may continue 2.5 miles on the undulating ridge, towards Baker. The views undeniably get better as you head south, and you may find less of a crowd. The trail keeps going and there are several possibilities for longer hikes. If you've had enough of the views, enjoy the hike down and treat yourself to Magic Cookie Bar at the Wake N Bakery once you make it back into Glacier.
Heliotrope Ridge Trail
Just off Glacier Creek Road there lies another Whatcom County hike that provides classic Pacific Northwest beauty on an epic scale. Heliotrope Ridge is more technical and difficult than Skyline Divide, but offers an even more intimate look at the volcano we see regularly from Bellingham. As with any longer hike, pack layers, snacks, and plenty of water. The trail is in great condition, but requires a stream crossing just over two miles in to your hike. Be very careful at this stream crossing, as the rocks are slick and the water is cold. The trail rolls through the Mt. Baker Wilderness complete with massive trees, bridges, nurse logs, and the occasional teasing view of Komo Kulshan himself. In the summer and fall, enjoy blueberries galore as you work your way uphill towards Coleman Glacier.
From the creek crossing, continue through meadows and woods up to Heliotrope Ridge. As you approach the ridge, you'll eventually find stunning views of Coleman Glacier with Mt. Baker looming behind. Hike around the various ridges and enjoy the scenery before heading back the way you came. If it's sunny out, be sure to wear sunglasses as the reflection from the snow can do some serious damage over long periods of time. Though the alien textures of the glacier can be tempting, don't walk on it. The glacier is constantly cracking and moving and can be quite dangerous, so observe from afar.
The views here on Heliotrope Ridge are nothing short of amazing, and may inspire you to work your way up to other hikes in the area. You may also see people setting up camp at the ridge, as this is a popular access point for climbers attempting to summit the 10,781 ft. Mt. Baker. On your way back into Bellingham, reward yourself with a slice and a pint at the famous North Fork Brewery in Deming.
Yellow Aster Butte Trail
If color is what you're looking for, then Yellow Aster Butte is the hike for you. This is yet another hike off of the Mt. Baker Highway with easy access from Glacier. Drive about 12 miles past the Glacier Public Service Center on 542 until you hit Twin Lakes Road (FR-3065). Take a left and keep going for about 4.5 miles until you hit the Tomyhoi Lake and Yellow Aster Butte Trailhead.
This hike begins with a sturdy ascent that gains about 1500 ft. in under two miles. Follow switchbacks through terrain shaped by avalanches until you hit forest and meadow. In early Fall, this trail is filled to the brim with Indian paintbrush, lupine, fireweed, and many more wildflowers and blueberries. Bring a camera for this hike as you'll find loads of inspiration before you reach the top. About a mile and half from the trailhead, you'll hit the junction for Yellow Aster Butte. Stay left, and traverse around the south side of the mountain. Take in the views for a couple more miles until you reach a second junction at 3.6 miles from the start of your hike. Stay right and hike up to the summit of Yellow Aster Butte. At the top, take a deep breath and enjoy the beauty with views into Canada and the surrounding Mt. Baker Wilderness. If you're feeling up for it, bring overnight camping equipment for a sunrise that is sure to impress with clear weather.
We want to acknowledge and thank the past, present, and future generations of all Native Nations and Indigenous Peoples whose ancestral lands we travel, explore, and play on. Always practice Leave No Trace ethics on your adventures and follow local regulations. Please explore responsibly!
Do you love the outdoors?
Yep, us too. That's why we send you the best local adventures, stories, and expert advice, right to your inbox.