We Need to Protect the Wolves of Yellowstone
Two well-known and beloved Yellowstone wolves were killed this past month during the legal hunting season. Both were killed near the park boundaries. Wolves don't know the imaginary lines that separate the park from the surrounding wilderness and we need to do all we can to fight for their protection in the Greater Yellowstone Ecosystem.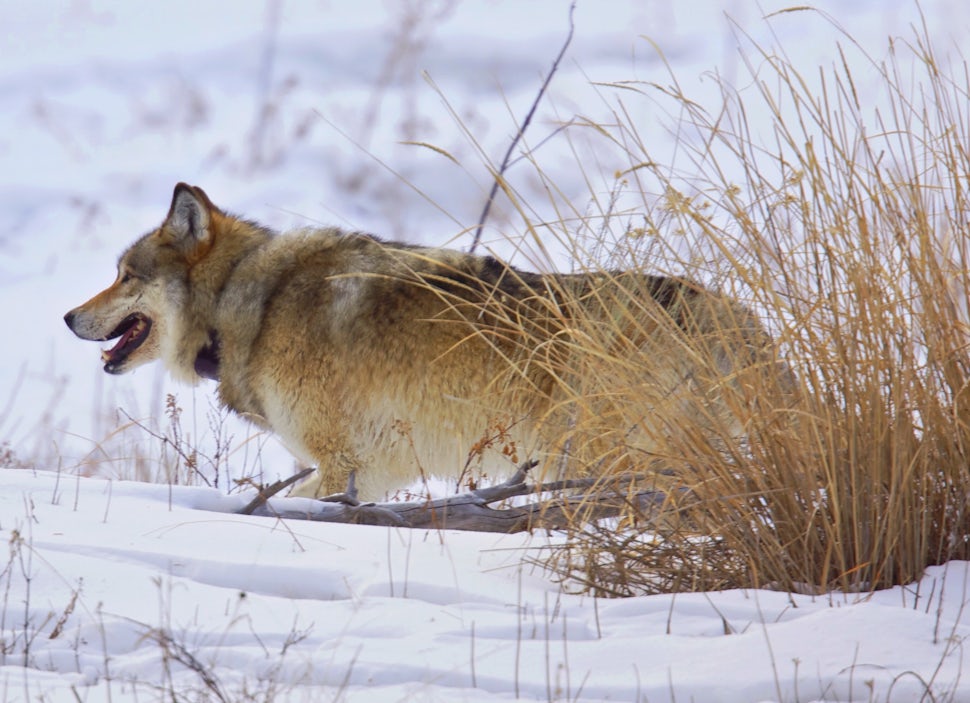 This is Big Brown, Yellowstone wolf #778. He was killed by a hunter legally outside the park boundary a month ago. He was the last of the Druid line - the most famous and well known pack in the park that was reintroduced in the mid-1990s. This is the closest encounter we have ever had with a wolf. We go many winters and have watched and photographed over six different packs. Big Brown ran in front of our car and alongside us at Christmas, 2013 and I was able to get this photo while my husband drove us slowly alongside the hill he was on. We were the only ones to witness this encounter and it was awesome. He was a well known and loved wolf - not shy around humans and therefore thousands of people got to watch him over the nine years he was alive. The news of his death devastated us.
Yesterday, I received news that another famous wolf, #965 was killed by a hunter through legal trapping. He too was a beloved wolf who had survived so much - from mange (caused by mites which weakens wolves and causes them to lose their fur) to being run out of his pack and having to leave his mate. He also survived the danger that goes along with being a wolf in Yellowstone - as other wolves in his pack were killed by rival wolf packs as well. He could not however, outrun or escape the trap that captured him and the trophy hunter that killed him.
While this type of hunting is currently legal around the boundaries of Yellowstone, there continue to be many lawsuits about where hunting can occur and what quota of wolves can be taken in the surrounding states of Montana, Wyoming and Idaho. One of the saddest things about this story is that wolf 965 had actually left the safety net of the park to take Big Brown's place in his pack after he was shot and after wolf 965 was pushed out of his pack by other wolves. I am not going to share where this pack actually is living or the name of their pack for the wolves protection. And while I do understand that these hunters did not do anything illegal, I believe there are serious problems with the wolf management plans when hunters are allowed to kill them as soon as they cross the park boundary.
One measure I have seen discussed and advocated for is the idea of a 20 mile protection zone around the park boundaries to protect both wolves and grizzlies (who may soon face the same horrible fate - depending on what happens with their delisting from the Endangered Species Act). I think this is one of the most realistic ideas to fight for. This and continuing the fight to reduce the quota each year for hunters. This year, wolves were killed illegally in the hunts as there were more killed in certain zones around the park than were legally permitted. I believe we also have to fight for serious consequences for those hunters who breach quota levels.
I don't know how many of you have a heart for Yellowstone wolves, but their existence there is what makes the park so wild and beautiful to our family. We travel most winters to Yellowstone to ski and snowshoe, but also to watch the wolves. We have a son whose dream is to work with the Yellowstone Wolf Project or one of the organizations in the area that fight for the wolves. We take him each winter and he has spent time with biologists in the area too. They are always so excited to spend time with him, teach him and bring written materials to him since he is the next generation to take on this fight. For Christmas, his big gift was another trip this February to watch and study the wolves.
I encourage all of you to visit Yellowstone in winter at some point to view these majestic animals. While they can be viewed in summer, they are much more active in winter. Once you have witnessed a pack or even a single wolf, the experience never leaves you. Please research and follow groups such as Yellowstone Wolf Project, Wolves of the Rockies, Earth Justice and organizations such as Sierra Club and NRDC. Nothing will change until politicians realize how many people are fighting for these animals. Please sign petitions, write letters and give financially to protect the wolves of Yellowstone. There really is no other way to stop this hunting from continuing in the Greater Yellowstone Ecosystem.
A book that I highly recommend reading about the reintroduction of wolves to Yellowstone and stories of the Druid pack and many other famous Yellowstone wolves is The Decade of the Wolf by Douglas W. Smith. Doug Smith is one of the main wolf scientists involved in the reintroduction program and in continuing to monitor the wolves.
We want to acknowledge and thank the past, present, and future generations of all Native Nations and Indigenous Peoples whose ancestral lands we travel, explore, and play on. Always practice Leave No Trace ethics on your adventures and follow local regulations. Please explore responsibly!
Do you love the outdoors?
Yep, us too. That's why we send you the best local adventures, stories, and expert advice, right to your inbox.