Exploring White Sands National Monument
Few places match the raw natural beauty of White Sands National Monument. It's definitely worth the drive.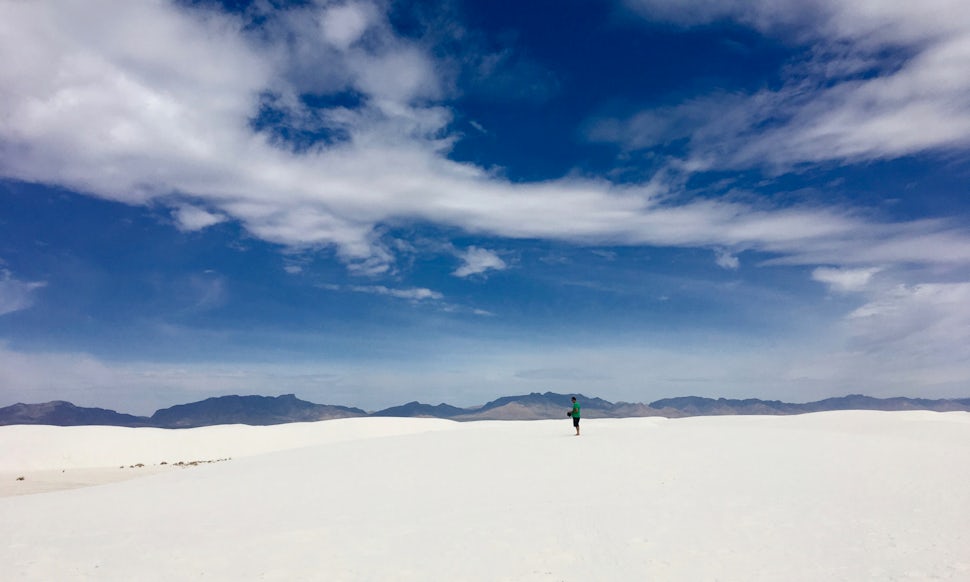 Not far from the I-10, just above Juarez and El Paso, is nestled one of the best destinations New Mexico and the US have to offer.
The world's largest gypsum dunefield… White Sands National Monument.

I've written about The Great Sand Dunes in Southern Colorado, but this place much different.
Dunes at White Sands don't have quite the altitude of those in Colorado (which makes sense because The Great Sand Dunes are the tallest in North America), but this endless field of crisp white sand looks like something from a faraway land. Luckily, New Mexico is only a road trip away.
It's no surprise then that several Hollywood movies have been filmed here – including Michael Bay's Transformers.
Among the most popular activities at this park are hiking, driving dunes drive, sledding, and backcountry camping.
Hiking
Pictures are one thing, but hiking among the gorgeous white gypsum dunes is a breathtaking experience. Make hiking a priority of your trip.
The park has 5 trails – The Playa Trail, The Dune Life Nature Trail, The Backcountry Camping Trail, The Alkali Flat Trail, and The Inter-Dune Boardwalk.
The Playa Trail remains level for a quick half-mile round trip, and educational outdoor exhibits along the way make it a perfect trail for families with small children and those short on time.
Not much harder than The Playa Trail is The Dune Life Nature Trail. It comes in at about a 1 mile round trip, and only has two steep dunes to climb. What makes this trail special is the life around it. While you're on it keep an eye out for tracks left by the animals who call White Sands their home.
By the name you probably guessed The Backcountry Camping Trail is most frequented by Backcountry Campers. You're right, but the moderate 2 mile loop is also perfect for day hikers looking for something moderate.
The most difficult of the trails is The Alkali Flat Trail. It's no Mount Everest, but contrary to the name, it will take you up and down several dunes during its 5 mile round trip. Make sure your whole party is prepared before you take on this one on.
Unlike the other trails, The Inter-Dune Boardwalk is actually a walkway raised above the white gypsum. It's very short, but It gets you close to the dunes while maintaining easy access for wheelchairs and strollers.
(Bicycles are not allowed on any of the hiking trails in this park)
Driving Dunes Drive
This 8 mile road takes you from the visitor center straight into the snowlike dunefield. It offers a unique perspective of the park on a larger scale, but make sure to make some stops and see the dunes close up.
The first 5 miles of Dunes Drive are paved and the last 3 are hard-packed sand. However, according to the national park service, the road is still suitable for cars, motorcycles/ bicycles, recreational vehicles, and buses. I'm sure you'll be fine.
It is highly recommended to experience this road on a bike. If you get the opportunity go for it, but keep in mind that there will be hazards sharing this road with big RVs and cars.
Safety on Dunes Drive:
Like all roads weather will affect safety. Slow down during rain and keep an eye out for ice during the winter.
In addition, Heavy machinery is frequently used by park staff to maintain the road in the midst of ever-changing dunes. When you come across these vehicles slow down, keep your distance, and wait for a time to pass safely.
Sledding
For many people, sledding or sandboarding are a top priority in a place like this. It was on my bucket list for a long time before I finally tried on The Great Dunes in Colorado. Here are a few things to consider when sledding down these dunes.
The bright white sand here looks like snow, and you can sled down it like snow, but it is NOT snow. People come to places like this with snow sleds ready to wiz down the dunes, but they're disappointed when some sleds skirt for a second and halt less than halfway down the dune.
Toboggan style sleds dip forward into the sand and never build up speed. From my experience wooden boards and sleds with waxed bottoms blow out any competition, but I couldn't find rentals for these sandboards and sleds near White Sands.
If you must go for a cheap snow sled the best choice is a waxed plastic saucer. You want something firm and without grooves. Something flat but flexible you will sink into the sand and stop.
Now that you've got your sled, try to pick up snowboard wax. A waxed bottom will be all the difference on the sand. Apply in the direction you're sledding down and slide the saucer back and forth on the sand when finished. You'll feel when the friction decreases and you're ready to go.
Sledding Safety:
Sledding face first is discouraged due to the increased risk of head injury, but leaning back also decreases your risk of sinking into the sand and makes your experience much more enjoyable. It's a win-win.
The most important part of sledding safety is picking your spot. Find a dune that is away from the road and cars! You might be so excited you want to go straight for the first dune you see in the parking lot, but there are plenty of dunes much safer just a short walk away.
Backcountry Camping
Backcountry camping anywhere is a beautiful experience, and White Sands National Monument would be one of the coolest places to do it.
I didn't have the chance to camp here this time, but I've been planning my way back for a camping trip as soon as I left.
To be alone in the pristine white dunes for even one night would be a memorable experience for anyone. The backcountry slows us down and wipes away our daily anxieties. You forget that "to-do list" that's been overwhelming you back home and time turns slow.
I can always count on returning from the backcountry refreshed.
(For a longer list of park activities – including trekking with pack animals and ranger programs – click here)
People visit White Sands for activities like these, but to ensure a quality experience you need to be safe.
Top Safety concerns at White Sands:
Heat
This monument is in a desert. I hope this isn't news, but deserts can get really hot. Bring lots of water while you're here, and don't forget to put on sunscreen and a hat. Dehydration and sunburns are fast ways to ruin a good trip.
Summer temperatures can exceed 100 degrees Fahrenheit!
Getting Lost
The dunes are tricky to navigate if you're not careful. Always look for the next trail marker when you're hiking. If you can't find it, don't wander. Follow your tracks back to the car, or until you get onto the trail.
If you are totally lost, get to the top of a dune and stay where there. Wandering could make things a lot worse. It can also help to have a plan before going in and telling someone who's staying by the road. If something happens they know you're out there.
If you stay on top of things and stick to the trail you won't have to worry about getting lost, but Make sure your phone has plenty of charge before you go in just in case.
And a safety concern truly unique in my experience to White Sands…
"Unexploded Ordinance"
White Sands is next to an active missile range. You read that correctly. For safety, the park is closed during testing. There's no need to worry about a stray missile hitting you while in the park, but If you stumble on a strange object half-buried in the sand DON'T TOUCH IT. If it is unexploded missile debris it could still detonate. Instead, make note of its location and tell a ranger. Appropriate personnel will take care of it.
AND DON'T FORGET SUNGLASSES!!!!!
Not as much of a life or death safety tip, but this is BIG. The white sand reflects a lot of light to your eyes. I made the mistake of forgetting sunglasses and it was pretty blinding.
The Visitor Center
If you have time, check out the visitor center on your way out or in. It's a great place to fill up water bottles (There is no water in the dunefield), it has loads of cool information on the park, and it's a very nice building with some history to it.
Originally built between 1936 and 1940, the visitor center is the product of the famous WPA – the largest part of FDR's New Deal. In addition, the building is home to several pieces of artistry, including hand-carved benches and individually crafted lighting fixtures.
Pet Policy: Although pets are welcome in the park, only service animals are available inside the visitor center, and pets cannot be left unattended.
The Information Desk will have brochures on areas of interest, hiking information, and details on ranger-lead programs. If you're with children I highly recommend getting them Junior Ranger Books and checking out a couple of Junior Ranger Adventure Packs.
There are two Junior Ranger Books – the Preschool Book (ages 5 and under) and the Junior Dunes Ranger Activity Book (6 and over). Booklets include word puzzles, desert safety activities, visitor center scavenger hunts, wildlife checklists, nature manners, and other activities. Each booklet helps kids learn about White Sands and the National Parks Service in a fun way.
Kids who complete the Junior Ranger Activity Book earn a Junior Dunes Ranger badge and those who complete the preschool book earn a sticker, but all ages receive 15% off of any one item at the Western National Park Association store and White Sands Trading Post gift shop.
The Adventure Packs are even cooler. Each includes binoculars, an animal tracks fold-out guide, compass, flashlight, adventure tool, Desert Survival Guide, New Mexico Birds fold-out guide, Desert Life book, Easy Field Guide: Birds, Easy Field Guide: Insects, Easy Field Guide: Mammals, and an Easy Field Guide: Snakes.
They are a perfect way to learn while encouraging full immersing into the park's natural environment, and they're totally free. Just talk ask whoever is working at the Information Desk and they'll have you sign the right paperwork to check one out.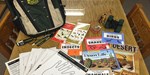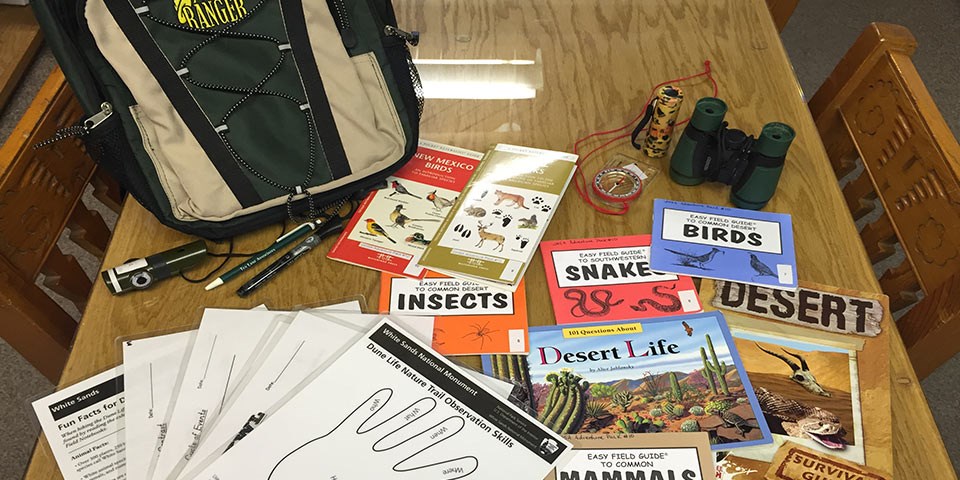 (photo found on the NPS website)
Here are some other cool things at the visitor center:
Interactive Exhibits teaching the geological formation of the massive gypsum dunefield can be found inside. It took a lot to make the geological wonder it is today. Learn about its paleontological past, rich cultural history, amazing ecology, and latest scientific discoveries. Like all information in the park, exhibits are available in Spanish and English.
The Chihuahuan desert is the home of many beautiful plants. Ask for a native plant guide book and audio guide at the information desk, and take a walk through the Native Plant Garden out front. It's beautiful and informative at the same time.
If you want to take your experience to the next level. Watching the park's award-winning Orientation Film, A Land in Motion. It's a 17-minute long guide to the ever-changing gypsum landscape with stories of plants, animals, and people who made it their home. The film is available in English and Spanish and plays every hour and half hour in the Visitor Center Theatre.
But wait!
Before you rush over to plan this trip, you'll want to check a few things. As previously mentioned, the park is next to a missile range. With this in mind, there hours when the monument is closed for safety, and backcountry camping is prohibited for days at a time.
Check here for more information.
The unexpected can always mess up a good trip, so check here for up to date park conditions and alerts.
(This post was originally published on camandtheoutdoors.com).
We want to acknowledge and thank the past, present, and future generations of all Native Nations and Indigenous Peoples whose ancestral lands we travel, explore, and play on. Always practice Leave No Trace ethics on your adventures and follow local regulations. Please explore responsibly!
Do you love the outdoors?
Yep, us too. That's why we send you the best local adventures, stories, and expert advice, right to your inbox.