So You Want To Hike Mt. Whitney?
Little tips and small pieces of advice from a friend who's been there a few times before.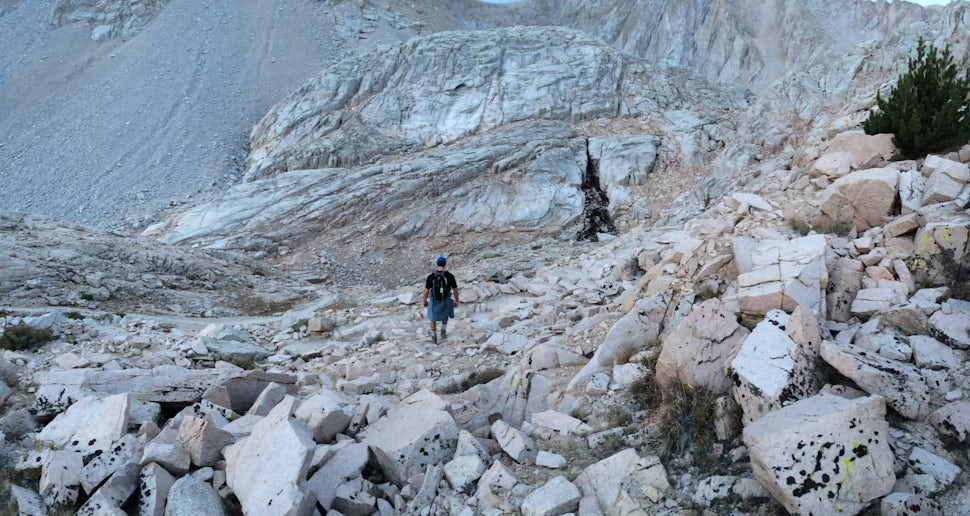 14,505ft above sea level, the highest peak in the contiguous United States, and a book end of the famous John Muir Trail – Mt. Whitney is a gem that every Californian should experience.

Permits
You will need a permit in order to do this hike. This is the parks service's way of keeping crowds to a controlled number. If you click here it will take you to a national parks service website that will tell you everything you need to know.
But before you get yourself a permit, know what you will be facing. Getting to the top of this peak is no walk in the park, but with some extra time and determination, my little brother made it to the top of this mountain when he was 12 years old.


The trail
Starting at Whitney Portal it's a 22 mile (35km) round trip hike with an elevation gain of over 6,100ft (1,860m). One of the last things you hit before the peak will be a series of 97 switchbacks. I don't say these things to intimidate you, but know that it's hell for everyone who does it and that it's ok to feel like it's hell when you're doing it.
I can't say much about the process of backpacking up to the top. There are places on the trail to camp if you choose to backpack. This can be a good option for people who are altitude sensitive. I would only recommend bringing a smaller pack for day 2 so you don't have to lug a big back pack any farther than you have to (Permits for overnights can be reserved on rec.gov). Personally, however, I enjoy and am sure you would enjoy the approach of making it up and back in one day.
The night before
Eating a good meal the night before will be very important in making the next day successful. I recommend planning on driving into Lone Pine around dinner time to carbo load at The Pizza Factory. I swear by the difference a good bowl of Fettuccine Alfredo will do against the altitude the next day.
Next, you will want to drive up to spend your first night at the Whitney Portal. The first time I arrived at Whitney Portal, my head was pounding just from the drive up. Altitude will be one of the biggest challenges to you on the hike. A good sleep at the Whitney Portal will make all the difference hiking the next day. You can easily pitch a quick tent or even sleep in your car if it's comfortable.
Based on the needs of your group you can plan your wake up time accordingly. However, if you live within driving distance of the mountain I would recommend getting up around 4:00am and hitting the trail by 4:30am to beat the heat and give yourself enough time to make it home, shower, and sleep in your own bed.
Keep in mind
Regardless of when you wake up, make sure to eat some good food, drink water, put on a lot of sunscreen, take whatever medication you might need for the altitude (I recommend Ibuprofen unless you need something stronger), and try very hard to go to the bathroom. It's a long hike, and my assumption is that you'd rather use a toilet than a Wag Bag.
A lack of fluids will be a sure fire way to slow down your bodies acclimation process. So, make sure to stop for food and water regularly. If you begin to feel nauseous, immediately stop and place your head between your knees. Nausea on this mountain is nothing to mess around with. If things don't start to feel better you will need to head down the mountain. I have only ever had acute altitude sickness, but let me be the one to tell you that it's not fun, and it'll follow you into the next day.
Like all other long distance physical activities hiking can be overwhelmingly a mind game. When I've hiked Mt. Whitney I've felt the toll of the altitude the whole time. Sometimes I see it hit people hard right off the bat, other times I see someone practically run up the switch backs only to see them blue and shivering having to turn back so close from the peak. Know yourself. More often than not people can go farther than they think they can go, but the altitude is nothing to mess around with.
Most importantly, don't forget to enjoy yourself while you're on this mountain. If you choose to hike before the sun is out then you just earned yourself one of the best sunrise spots I've ever seen. Be ready to take a good break an watch as the once dark mountain scape lights up in all of its beauty. The Sierras will turn pink from the sun rise light. Soak it in. You earned it.
This mountain is the reason that I fell in love with hiking and in part fell in love with the outdoors. Hiking Mt. Whitney is one of the most physically exhausting things I've ever done, but it is without a doubt the most mentally and emotionally rejuvenating thing I am yet to experience. Your knees might hurt, but you will not regret the experience hiking this beautiful mountain.
Training for Whitney
If you read all of that and are getting a little scared don't worry. You can take easy steps to make sure that you will be okay when you are up on the mountain.
Any kind of cardio work will do you wonders while up on that mountain. If going on a run or hitting the gym is your thing then go for it. Stair masters are a great machine to use if you do have access to one. That will be a good simulation of what you will be doing on the mountain. However, If you're like me then you're going to want to do any of your training actually hiking mountains.
Here are four great SoCal mountain hikes that will be a great way to warm up to Whitney:
If you only have time for one, I strongly recommend San Gorgonio. This is one of my all time favorite hikes. Putting you at 11,503ft this is the highest peak in SoCal, this mountain will give you a taste for altitude. I have only ever hiked the mountain in one day on the Vivian Creek trail. However, there are many options to get to the summit, including several backpacking options if that's the experience that you are looking for.
Now get to it so you can add your name to this list. Just don't forget to grab some in-n-out when the hikes over!
We want to acknowledge and thank the past, present, and future generations of all Native Nations and Indigenous Peoples whose ancestral lands we travel, explore, and play on. Always practice Leave No Trace ethics on your adventures and follow local regulations. Please explore responsibly!
Do you love the outdoors?
Yep, us too. That's why we send you the best local adventures, stories, and expert advice, right to your inbox.