Jumbo Glacier: Where Do We Go From Here?
Controversies spanning 20+ years have surrounded the Jumbo Valley region of Eastern British Columbia.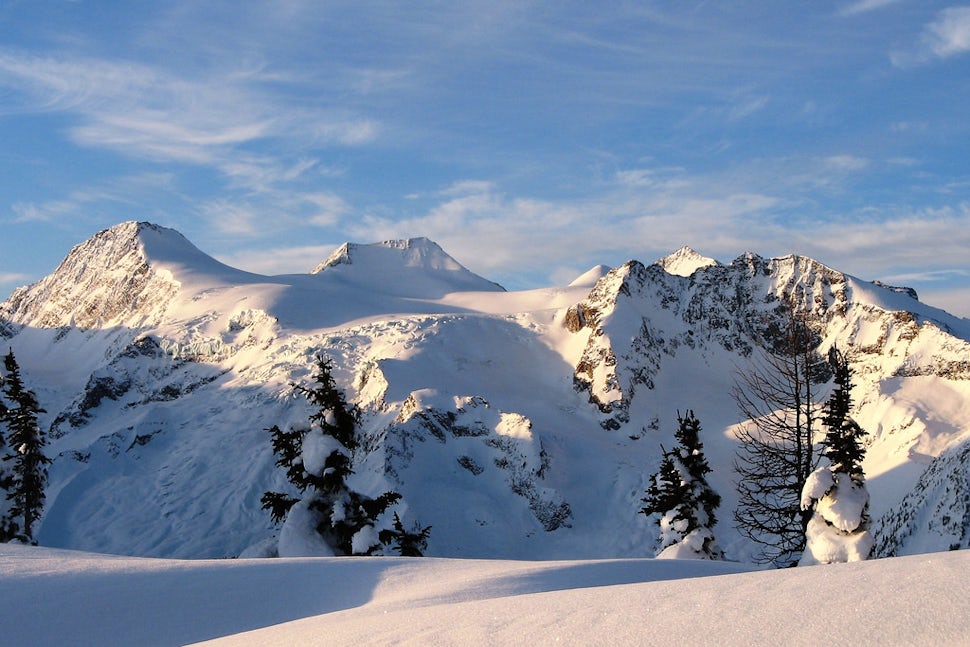 Why is Jumbo Valley so important?
Jumbo Glacier Resort is a proposed development in Jumbo Valley—the heart of British Columbia's Purcell Mountains. Located in the traditional territory of the Ktunaxa Nation, 55km west of nearest town Invermere, the resort would occupy 6,000 hectares and access four glaciers. The resort proposes a village in the valley with approximately 6,500 beds, 369 hotel rooms, 240 townhouses, 970 condo units, and 143 chalets – with restaurants and retail stores in between. The proposed ski infrastructure includes 22 lifts and gondolas that will rise to over 11,000 feet on the tallest peak, and a restaurant at the top with 360-degree views of the Purcell Mountains. For over 26 years, local residents, concerned citizens, and the Ktunaxa Nation have strongly opposed this development for environmental, economic, and social justice reasons. As a student who grew up skiing in British Columbia, I hold a deep connection to this beautiful, wild land and I am gravely concerned about the future of this region.
Photo: Danny Laroche
The lands in question for development hold profound spiritual and cultural importance to the Ktunaxa Nation, and the resort would undermine the beliefs, practices, and rights that are crucial to the core of Ktunaxa identity. Jumbo Valley is recognized internationally as one of North America's most pivotal wildlife corridors. Results of recent DNA studies reveal that current bear populations in Jumbo Valley are at 54% capacity, just above being considered legally threatened (50%). The proposed development of Jumbo Glacier Resort would fragment the ecosystem, leading to habitat disintegration and reduced grizzly bear populations on a local, regional, and international level.

Many ski resorts already exist within a four-hour radius of this proposed development: Panorama, Kimberley, Fernie, Kicking Horse, Revelstoke, Whitewater, Nakiska, Norquay, Sunshine and Lake Louise. None of the aforementioned resorts are running at capacity and the addition of a resort would take business away from the existing locations – a poor decision if our goal is to preserve and increase existing market share and revenue. Environmental assessments conclude that a majority of the glaciers in the Columbia Mountains will be significantly altered, if not gone entirely, by 2100. The effects of climate change will have devastating impacts on the ski industry.
Photo: Keep it Wild, CA
State of the Valley
On December 1st, 2016, the Supreme Court of Canada heard an appeal from the Ktunaxa First Nation, claiming protection for their spiritual beliefs and sacred places under Canada's Charter of Rights and Freedoms. On November 8th, 2017, the Supreme Court of Canada ruled against the Ktunaxa Nation's appeal, finding that Indigenous spiritual rights connected to a sacred place are not protected under the Charter of Rights and Freedoms. The resort development requires an environmental assessment certificate to begin construction, but Glacier Resorts' certificate expired in 2015 after their failure to begin substantial development during the certificate's 10 year term.
As I see it, we have three compelling policy options: development as planned, modified development, or no development. The first option is to proceed with planned development for Jumbo Glacier to be a year-round resort. A more compelling option is to proceed with modified development. In this scenario, the resort goes through with modifications: reduced snowmobile and ski area access in pivotal seasons for grizzly bears. Major resort buildings should rely on renewable energy. Standards for avalanche guns and explosives must ensure that wildlife populations are not disturbed. The third option is that the development of Jumbo Glacier Resort will not take place. Lands are preserved as the region is recognized as a Provincial Forest.
Photo: Brodie Guy
Evaluative Criteria
The best measure of environmental health requires monitoring the critical Purcell grizzly populations. Compelling environmental factors include the natural resources that would be required to build and maintain the resort and surrounding infrastructure. A critical element to evaluate is the amount of emissions that would be released into the environment as a result of resort construction, increased traffic, and continual functioning. There is an overwhelming probability that the resort would add point and non-point source pollution into the local bioregion.
The policy should do the least possible harm to the aggregate good of the resort industry in British Columbia and should aim to promote the economy by facilitating the growth of pre-existing resorts. Furthermore, we must strive to keep taxes under control for residents of British Columbia and we must think about the job creation that would stimulate local economies.
Photo: Danny Laroche

So where do we go from here?
If development is to proceed as planned, there will be detrimental environmental implications. Based on the number of black bears killed in Whistler due to human-bear conflict from 1999-2011, I estimate that up to 86 Purcell grizzly bears will perish in a similar 12-year period. Given that the Purcell population is speculated to contain only 50 individuals, a population loss on this scale will be utterly devastating.
It is likely that any short-term revenue will be offset by the cost to taxpayers for necessary infrastructure. While proponents of the development argue for job creation, construction jobs would cease when construction terminates, and it is arguable that many resort positions would be obtained by people who are not local to Eastern British Columbia. Furthermore, resort accommodations and second homes are putting pressure on existing home stock and are driving real estate prices beyond what local citizens can afford. In modified development, not only would revenue be diverted from nearby resorts that are not functioning at capacity—it is very likely that the revenue from a smaller Jumbo Glacier Resort would not outweigh the cost of externalities.
Given the above discussion, my strategic recommendation is to formulate policy option #3: no development. If Jumbo Valley is permanently protected from development, the region would be preserved as a Provincial Forest. Natural resources including rivers, streams, lakes, timber, and minerals are not at risk from construction or resort community runoff. Pollution from construction efforts and from the resort as whole over the next 100 years is avoided. We will also avoid noise pollution, light pollution, and GHG emissions from visitors.

I encourage you to become familiar with all sides of the Jumbo Glacier Resort issue by studying peer-reviewed articles and environmental impact reports. Voice your opinion to legislatures--regardless of what side you are on. Legislation and policy action must be a revolution that snowballs from the civic duty of concerned citizens and Provincial governments.
Nepal, Sanjay K., and Tanzim B. Jamal. "Resort-Induced Changes in Small Mountain Communities in British Columbia, Canada." Mountain Research and Development, vol. 31, no. 2, Apr. 2011, pp.89-101. BioOne, International Mountain Society, doi:10.1659/mrd-journal-d-10-00095.1
Shaffer, Marvin. "An Assessment of the Economic Benefits of the Proposed Jumbo Glacier Resort Project." Marvin Shaffer & Associates Ltd. 26 May. 2011. www.keepitwild.ca/wp-content/uploads/2014/09/ShafferReport.pdf
Waggoner, Nick, et al., directors. Jumbo Wild. Sweetgrass Productions. 2015.
We want to acknowledge and thank the past, present, and future generations of all Native Nations and Indigenous Peoples whose ancestral lands we travel, explore, and play on. Always practice Leave No Trace ethics on your adventures and follow local regulations. Please explore responsibly!
Do you love the outdoors?
Yep, us too. That's why we send you the best local adventures, stories, and expert advice, right to your inbox.