5 Steps to more Affordable and Frequent Adventures
We wouldn't be as happy under the weight of life's to-do list if it weren't for the unique relief of travel, adventure and recreation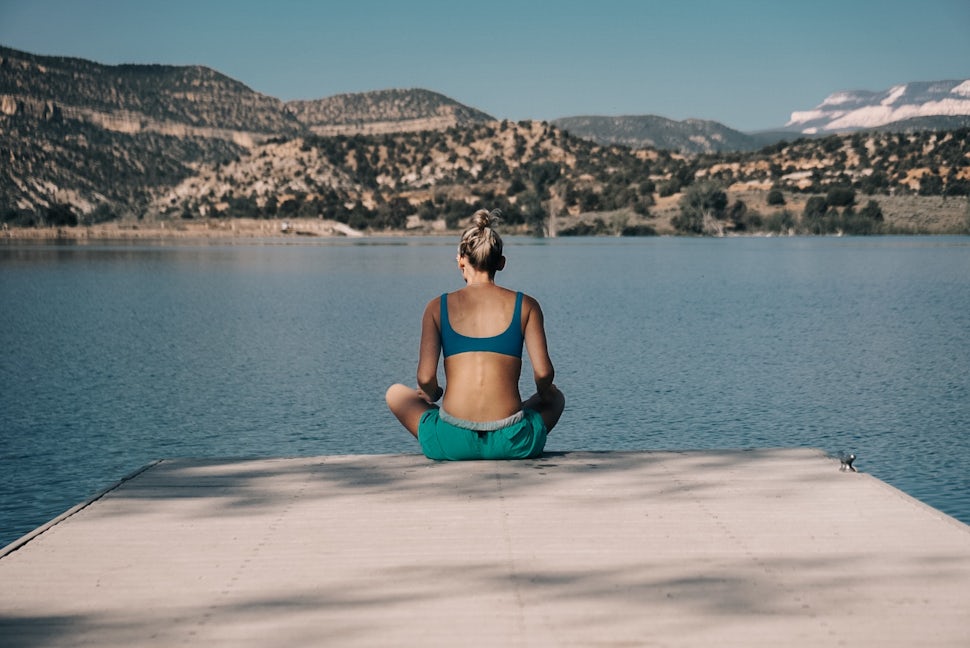 June 1, 2017
By: Edward Arthur Dalton & The Dream Chasing Family
Living in Utah has it's perks. We are embarrassed to say we have experienced less of them than we would like to admit as locals, however, we are trying to change that and take advantage of the amazing places to see close to home, one trip at a time.
Sarah Dalton enjoying a quiet morning in Petrified Forest State Park, Utah|Edward Arthur Dalton

This weekend road trip through Bryce Canyon & Capitol Reef National Park was another subtle reminder that awe-inspiring travel experiences are not reserved only for those with extra time to get away and money to make it happen; a travel fallacy we, like many others, have been guilty of subscribing to from time to time.
We have been asked several times "how do we afford to travel" or "how do we have the time to do it?" As much as I wish we had a revolutionary answer to clue you in on, we do not. In fact, the more we adventure, the more i'm convinced there isn't a complete answer to these questions out there. But here are some tips we have learned along the way.
Sarah Dalton and Ophir Dog make the best road trip buddies|Edward Arthur Dalton

If you're like us, you work a full time job which you love some days more than others. By the end of the week you're probably exhausted from work and the thought of going on a weekend trip feels unrealistic because you're tired and buried under an endless personal to-do list you've been procrastinating, not to mention the budget is tight. The list of "excuses" to stay home goes on and on.
Now, don't get me wrong, these "excuses" are all valid reasons to hesitate taking your next adventure or learning that new hobby. They are rightfully so our "primary" responsibilities, or the "work" before the play. The world needs well intentioned people everywhere doing their part to be responsible and contribute to society. Being accountable to good causes is a necessary part of improving ourselves and the world around us.
However, if we had a dollar for every good intention we've had, then money would certainly not be a mitigating factor in how we travel. I can't tell you how many times we've hoped to do this or that and just never got around to it. One thing I am sure of is we wouldn't be as happy under the weight of life's to-do list if it weren't for the unique relief of travel, adventure and recreation. It promotes a unique balance in life that we haven't found any other way. You know what we mean— those vivid memories we all look back on throughout life. Like that one time we caught our first fish, or jumped in that freezing water naked on a dare, but did it again willingly the next trip because you'd forgotten how cold it was and only remember how cool it was to say you did it.
Lower Calf Creek Falls, Escalante Utah (As a young Scout, I jumped in here in the middle of winter when it was frozen)|Edward Arthur Dalton

One of the prominent and frustrating illusions social media misrepresents about having more of these experiences and creating more of these memories is that temperamental advantages like having money and other resources at one's disposal are prerequisite to enjoying these life enriching moments.
As I said, we have fulltime jobs among other personal, family and religious responsibilities. We have to budget ourselves month to month, sometimes day to day. I wouldn't be surprised if most who read this are in the same boat— and that's ok. Like us, when you accomplish something new or finally make that trip happen, you probably feel a deeper sense of appreciation for it because it didn't come easy, which I personally think makes the adventure great.
So, here are 5 strategies we employed to make this Bryce Canyon and Capitol Reef road trip happen. I don't suspect they are completely new to you, but maybe they can serve as a helpful reminder to make your next adventures more practical and frequent!
Take and make your own food
When we are traveling we often bring and make our own food! This is obviously much easier to do when your method of transportation is a vehicle, but even destinations where we have flown, we have stopped at a grocery store when we land and grabbed some grub for the trip. It is always less expensive than eating out every meal, and sometimes it's the only option anyways. Doing this also buys you more time to play wherever you are instead of searching for and traveling to places to eat. This trip we stopped at a small town grocery store before heading into the desert and filled our cooler full of food to eat over the next 3 days.
Sarah Dalton cooking up a mean dinner at camp after a long day of hiking|Edward Arthur Dalton

Don't pay for entertainment
Let the outdoors be your entertainment. I'm a big fan of this. I've said before that my family grew up playing outside because it was like the air we breathe— free and easy. Some things don't change and this is one of them. When we're looking for a good time, we still look outside. This trip we enjoyed hiking in Bryce Canyon National Park, Escalante and Capitol Reef National Park, as well as paddle boarding at Petrified Forest State Park. Yes, it costs to get into nationals parks and some state parks, but the activities there are endless and recreating in them is free.
Edward Arthur Dalton urban surfing the Capitol "Reef break"|Sarah Dalton

Live as you would at home
Aside from gas money or maybe flights to get somewhere, the expenses of travel don't have to be in excess of how you live everyday. If you can get somewhere, you can live as you were before you got there, maybe even for cheaper depending on how strictly you apply these steps.
Sarah Dalton and Ophir Dog could live in one of these 24/7|Edward Arthur Dalton

Camp
As you're well aware, camping is a cheap alternative to hotels and resorts, which can be nice, but add up quickly! In our opinion, camping is a much more intimate experience of the place you are visiting. We got suckered into one of those sleazy time share pitches once and canceled it right away after rethinking and realizing many of the places we wanted to see were places we could only camp at. Better yet, some destinations even offer free camping! This trip we camped at Petrified Forest State Park, a "camp only" gem we would have never found staying in a hotel.
Not the kind of views you get from a hotel bed or resort- Capitol Reef National Park|Edward Arthur Dalton
Don't look so far away
Have you ever visited somewhere and thought, "I could live here"? Well, chances are It's probably been said by someone visiting wherever you live now. Don't be afraid to rediscover adventures close to home. You'll be surprised what there is to explore right where you live. This trip was a timely reminder that we could spend a lifetime exploring the state we live in and never see it all. All the more reason to stop looking so far away for that next experience that might not be as out of reach as you previously thought.
One of the more amazing things we've seen so close to home- Bryce Canyon National Park|Edward Arthur Dalton

To see more, join the chase for #AllThingsAdventure with Edward Arthur Dalton & The Dream Chasing Family!
TheDreamChasingFamily.com | Instagram | YouTube | Facebook | Twitter
We want to acknowledge and thank the past, present, and future generations of all Native Nations and Indigenous Peoples whose ancestral lands we travel, explore, and play on. Always practice Leave No Trace ethics on your adventures and follow local regulations. Please explore responsibly!
Do you love the outdoors?
Yep, us too. That's why we send you the best local adventures, stories, and expert advice, right to your inbox.