A Little Mountain Resort Town With Big Adventures!
Eagle Point, Utah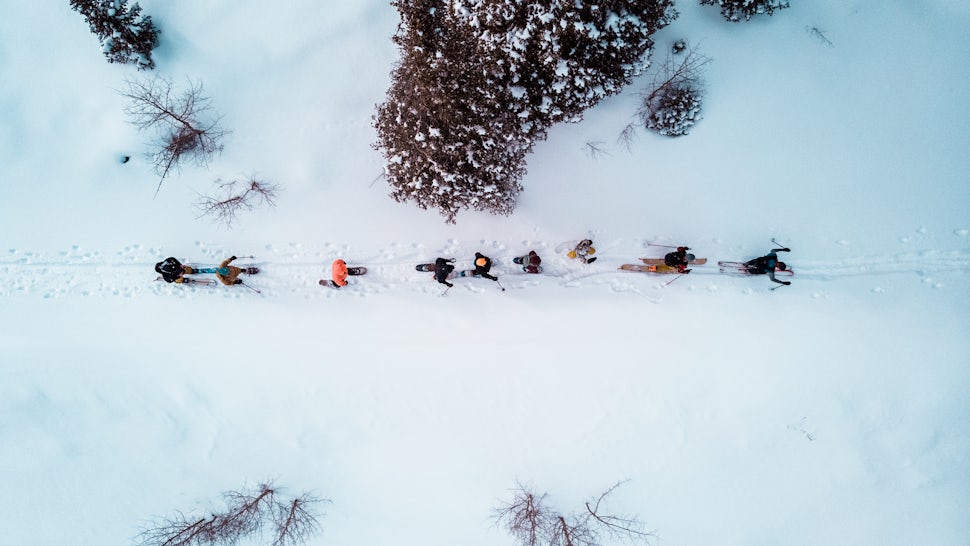 December 25, 2019
By: Edward Arthur Dalton & The Dream Chasing Family
It's always bittersweet coming to the end of a good year like 2019, which just so happens to also mark the end of an equally memorable decade.
Rewind 10 years and I was in the middle of my 2 year LDS mission, and Sarah was in college. It's wild to think that 10 years ago Sarah and I didn't know each other yet.
It would still be about 1 more year before we meet rock climbing in 2011. Since then, a lot has changed, mostly for the better.
We fell in love, got married, started professional careers, built a beautiful home, have had two awesome furry friends, learned new hobbies, finished school, and have had the privilege to travel to many beautiful locations. Now looking back, it's hard to imagine life without each other.
Snowboarding at Eagle Point Resort!|The Dream Chasing Family
But, I would be lying to pretend all the adventures along the way have been great. As "real life" would have it, there's also been too many arguments to count, loss of loved ones, sleepless nights, regret, grief and many "why me's?"
Full disclosure... the "real" us isn't always as fun or ideal as it looks! As you are probably already aware, our most recent trial has been a seemingly endless and undefeatable battle against infertility. I don't mention these unfortunate aspects of life to sound fussy or ungrateful, but to show that you're not alone in your challenges and disappointments, even though they might look a little different.
The truth is, we find our inspiration to persevere (in large part) from witnessing others incredible abilities to patiently weather their storms of life, many of which are far more severe than our own. Those captivating stories of true grit and resilience exemplify the good character we could only wish emulate one day.
But, regardless of our respective struggles, and level of courage to endure them well, we each deserve some shelter from the storm periodically. Especially at the end of an eventful decade! I hope you found some well-deserved time over the holiday season to hunker down with those you love, doing the things you enjoy most.
We were fortunate to celebrate Christmas and enjoy the last few days of 2019 with my family in Eagle Point, a quiet little mountain resort town in central Utah with big adventures.
Wylie Dalton spotted in his natural habitat! | Edward Arthur Dalton
If your families are as irreverent and intense as ours is, you understand why it can be a little... ok, a lot... overwhelming to get together for an extended period of time. Realistically, our most sincere efforts to demonstrate patience and restraint with each other during trips will wear thin long before it's time to go home. Who is going to get blamed for stinking up the shared bathroom or the car? Someone is inevitably going to get their feelings hurt during a passionate game of Secret Hitler. Some controversial comment at dinner is going to enrage a heated political debate. Sarah's hands are going to get cold playing in the snow, and I just need to accept it's somehow my fault. Everyone is going to get annoyed with my camera being out constantly, and my non-stop pestering. No matter how well intentioned, our communication skills will quickly break down from merely trying to decide when, where and what activities to do for the day.
But in the end, this family retreat ended up being a timely opportunity to reflect a little deeper on the good and bad of the past year. It was a pleasant reminder of how much we love each other, no matter how badly we may have wanted to push each other off the chair lift. 😜 Ultimately, we have a lot to be grateful for, especially each other. We are hopeful for our individual and collective futures as we stand on the brink of another year and decade.
Getting ready to drop into 2020 | Edward Arthur Dalton

Sarah and I have an idea of what both might hold for us, but the only thing that is certain is uncertainty. What we do know is that everything happens for a (often unknown) reason. We wanted nothing more than to include a couple kids on our 2020 household census response, but for now we are still chasing that ultimate dream of growing our family.
It was refreshing to take a short break from the daily grind with the whole "fam damnly" doing what we love in the mountains! We snowboarded and snowshoed on "The Greatest Snow on Earth". We played addicting board games under the Christmas Tree, and cuddled up next to the warmth of a wood burning stove to watch movies. We ate delicious food, snacked, napped and listened to good music.
Perhaps most notably, the mini adventure served as a subtle reminder that appreciating the small details along a difficult journey, despite not knowing if the outcome will be desired, is what makes the destination truly valuable and rewarding in the end - however it looks.
"We would do well to slow down a little, focus on the significant, lift up our eyes, and truly see the things that matter most."
— DIETER F. UCHTDORF | OF THINGS THAT MATTER MOST
Merry Christmas and best of luck in the new year/ decade. God knows we need it too!
How we did it.
Travel
We road tripped to Eagle Point from northern Utah, which ended up being a reasonably short drive! Eagle Point is nestled in a beautiful canyon below the 11,985 foot Mount Holly. Take I-15 to Beaver Utah, head up Beaver Canyon (Highway 153) about 18 miles and your there!
Lodging
There are many fairly priced sleeping accommodations available at Eagle Point. We found our cozy ski in/out cabin on Airbnb.
Dining & Food
What Eagle Point lacks in dining quantity, it makes up for in quality. Their Canyonside Bar & Grill had excellent food, with live music and games for the family to boot. The Skyline Lodge is your only other dining option, but an equal alternative. It serves breakfast and lunch cafeteria style. Both restaurants are very affordably priced for a mountain resort!
Packing List
Warm clothes
Gear for adventures (see list below)
Movies
Games
Adventures
Snowboarding & Skiing | Trail Map
Backcountry touring
Game Room
Puffer Lake
Wildlife Spotting
Sledding
Hot Tubs
Live Music
Snowshoeing
To see more, join the chase for #AllThingsAdventure with Edward Arthur Dalton & The Dream Chasing Family!

TheDreamChasingFamily.com | Instagram | YouTube| Facebook | Twitter

We want to acknowledge and thank the past, present, and future generations of all Native Nations and Indigenous Peoples whose ancestral lands we travel, explore, and play on. Always practice Leave No Trace ethics on your adventures and follow local regulations. Please explore responsibly!
Do you love the outdoors?
Yep, us too. That's why we send you the best local adventures, stories, and expert advice, right to your inbox.