5 Awesome Trail to Town Adventures Near Asheville, NC
Cool hikes and awesome spots to grab a bite in western North Carolina!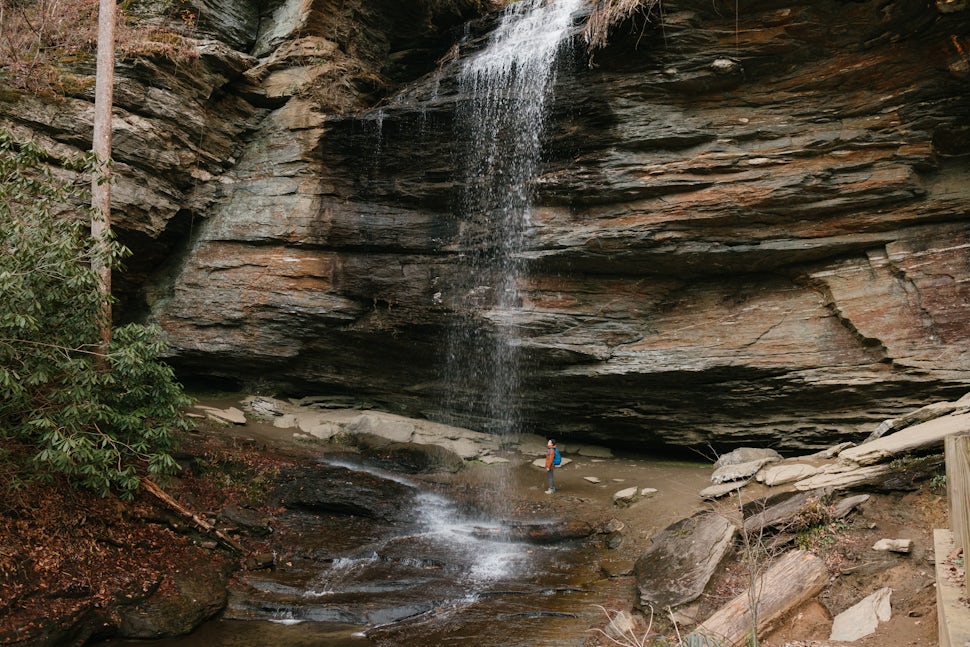 The trail to town concept sounds fancier than it is. For me, it's actually not an idea so much as it is my stomach getting what it wants. (And it is VERY persistent in that department). I'll often have a place to eat or drink picked out well before we've even arrived at a trailhead. On those rare instances when I don't, you can bet that I'm thinking about where to go post-hike, ride, run, paddle, or whatever… the entire time.
The good thing about my town, Asheville, NC, though, is that the food options are plentiful. We've got pretty much every kind of cuisine you can think of. And though there are a few fancy places in town, most of the places have a come-as-you-are vibe to 'em. It's not unusual to see people ordering a beer with mud on their legs or still sweating from a run. Knowing that you don't have to get dressed up to go out is one of my favorite things about living in Asheville.
Here are a few of my favorite trail to town adventures near Asheville, NC. Hope to see ya around!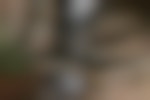 One of the prettiest waterfalls in all of Western North Carolina is just 45 minutes from Asheville.
There's an amazing waterfall about 45 minutes from downtown Asheville. It's a well-marked (yellow blazes), easy to follow trail that's only about .7 of a mile to the falls (1.4 miles out and back.) As the trail gently rolls up and down, you'll cross over several wooden footbridges before you get to the falls. If you choose to go behind the waterfall, be extra careful as the rocks are super slippery. Take a few photos and hang out, but mind the signs at the end of the trail that state not to try and go to the top of the falls, as people have died from doing so.
Bonus: Check out nearby Looking Glass Falls and Sliding Rock (it's exactly what it sounds like, a waterfall that you can slide down). Both are just a short drive from Moore Cove Falls.
Gan Shan West | 285 Haywood Road, Suite 20
This is the place I picked for my birthday dinner. Basically, I love it. My go-to dishes are the pork dumplings, the rice bowl with black bean chicken (add an egg, it's more than worth it) and kimchi, the Gai Lon, the chicken wings… I could go on and on. I've yet to try anything here that I don't like. If you're the kind of person who likes to get a bunch of different dishes and flavors and then share them with someone, this is the place for you.
Bonus: they've got several vegan, vegetarian, and gluten-sensitive dishes to pick from.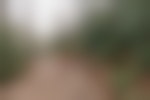 The hiking options are plentiful including non-technical trails such as Triple Falls Trail, pictured here.
There are numerous trails and roads in DuPont State Recreational Forest, enough to keep you coming back for more, even after several trips. If hiking and waterfalls are your things, you're going to want to make the trip out to DuPont State Forest as three incredible waterfalls await - High Falls, Triple Falls, and Hooker Falls. You can also go mountain biking and horseback riding at DuPont. A good jumping-off point for both of those activities is the Lake Imaging Parking Lot. On any given day you're likely to see it full of mountain bikers either loading up after a ride or getting ready to push off. This space is pretty much just a wide-open gravel lot (yep, big enough for a large RV or horse trailer to turn-around), but it'll give you easy access to the Ridgeline Trail, a fast and flowy downhill trail that draws people from all over the southeast.
Thai Pearl | 747 Haywood Road
This restaurant is fairly new to the Asheville food scene (it opened in early 2020), but it's a solid pick for a post-trail meal. I go there when I want a heaping portion of food at a really reasonable price. One order of their fried rice or green curry is enough food that you'll likely have enough for a late-night snack or lunch the next day.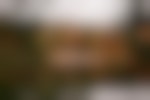 Peak leaf season is slightly different each year. This was shot on October 24.
Lake Powhatan is a super popular spot in the summer, because you can swim in the lake and there's even a small, sandy beach to spread a towel out on. But Fall is hands-down my favorite time to visit, because the leaves come out in full-force and you can get some really good photos. Even when the leaves aren't at their peak, it's a cool place to visit due to the nearby trails (bring both your hiking boots and your mountain bike) and campground. Better yet, run, hike, or ride, and then go for a dip in the lake. Note: boats aren't allowed in this lake.
El Kimchi | Various Locations
As soon as you get a cell signal again, look up El Kimchi and point your vehicle towards wherever it is parked for the day. (It's a food truck, so you're going to have to track it down. But it's worth the little bit of extra effort. And most of the time they're parked at a brewery, so you can get some suds and fill your belly at the same time.) As the name suggests, El Kimchi has both Korean and Mexican food. Their Korean bbq tacos are 10/10 and the special is always worth trying, but if you're feeling a little more reserved, you can hang your hat on their bibimbap and rice bowl. If you opt for something off the Mexican side of the menu, be sure to also get a side of kimchi. You can also get a quart or a pint to take home.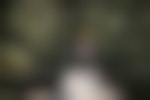 Hat, outer layer, trekking poles, and daypack by Eddie Bauer.
There are so many places to choose from when it comes to hiking in Western North Carolina, but my wife and I time and again come back to this little network of trails that can be accessed from the Turkeypen parking lot. For one, there are numerous looping options that allow you to decide how much or little you want to do, distance-wise. For that same reason, if you're just getting started with navigating with a map and compass, this is a good area to practice. The main reason we keep coming back here, though, is the swinging bridge off the South Mills River Trail, #133. It's one of the most scenic spots in the area.
Itto Ramen | 3 Biltmore Avenue
Work up a good appetite on the trails and then head on over to Itto Ramen. The location above is located downtown, right across the street from the Asheville Art Museum. They've also got another location in West Asheville. Both are cool. If you're going to eat in, I'd recommend the downtown location as you'll be within walking distance of a ton of stuff when your meal is over. If you're going to opt for carry-out, I'd go with the West Asheville location as they have free parking. (They're only about ten minutes away from one another.) My go-to is the Itto Classic Ramen, although I also love their Deluxe Ramen which is the same as the classic, plus black garlic oil. If you're a ramen fan, try their house special ramen. It's brothless and made with white truffle oil. Other than telling you that it's amazing, you'll need to taste it for yourself to really understand just how good it is.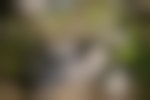 This is only a portion of Sunburst Falls. It actually continues behind you, under the road, and through an archway.
The Blue Ridge Parkway gets most of the attention around here when it comes to beautiful drives, but the Forest Heritage National Scenic Byway is also worth putting on your bucket list. It's basically three different highways: 276, 215, and 64, which, if you string 'em together make a nice 79-mile loop of twisty-turny curves and pretty views. If you've only got time for one section, pick the one in the northeastern corner of the route that takes you past Lake Logan and Sunburst Falls.
Bonus: You can take this route to access the Black Balsam and Sam Knob hikes when the Parkway is closed. Reaching both of these spots via this route is about 70 minutes from downtown Asheville.

Tiger Bay Cafe | 373 Haywood Road
Technically this is a trail to town adventure piece, but I'm going to break the rules here and suggest that you get a few of the sandwiches to go before you leave town and eat them as you make your way along the route.
If you know me, you know how much I love the Breakfast Bagel from Tiger Bay. It's an everything bagel, toasted, with a flat and folded scrambled egg, cream cheese, tomato, a little salt and pepper, and when I'm in the mood for a little extra, some slightly sweet bacon. It's my go-to adventure breakfast and something we get every time we depart town for a big trip. I know I should try other things, but it's just too good to try other things. My wife is more adventurous and vouches for the Chicken Avocado Panini (it's what she brings on river floats), The Granny, and the Cuban Panini.
#EveryoneOutside
We want to acknowledge and thank the past, present, and future generations of all Native Nations and Indigenous Peoples whose ancestral lands we travel, explore, and play on. Always practice Leave No Trace ethics on your adventures and follow local regulations. Please explore responsibly!
Do you love the outdoors?
Yep, us too. That's why we send you the best local adventures, stories, and expert advice, right to your inbox.