Beginner Backpacking in Central Oregon: Misadventures Along the Broken Top Loop Trail
With the West Coast on fire, it's a miracle we were able to experience the beauty of Central Oregon and our fair share of beginner backpacking mishaps.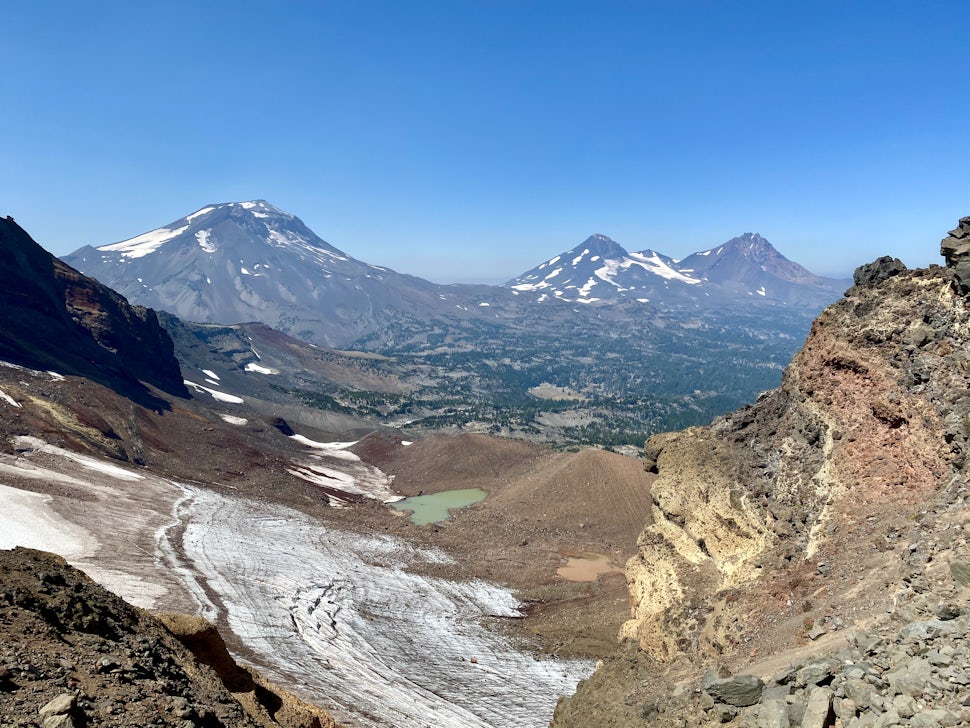 The week we embarked on our first backpacking trip in Central Oregon was also the week the West Coast caught on fire. Days before our departure, we awoke in the middle of the night to blinds flapping against open windows and cracks of neon lightning splitting the sky. I was momentarily transported to the summer I spent in Ohio, when storms spilled warm rain onto the sidewalks and wiped out power for days. But this was not Ohio. This was California, and lightning late in August did not belong here.
By the following Saturday, 650 fires—sparked by that mysterious and silent lightning storm—were burning away chunks of California.
We left San Francisco anyway. As we passed Lake Berryessa in Napa County, air stoked by the LNU Lightning Complex Fire heated up our car. For seven hours, we drove through gray smoke so thick it hid the contours of Mount Shasta, which normally towers above I-5.
About an hour after passing the Oregon border, we finally saw blue sky and flakes of cotton candy clouds. But it didn't last long. In Bend, there was once again a haze. We learned that fires were burning here too—the Green Ridge Fire was only an hour north of our hike and had already swallowed thousands of acres of forest.
In the days leading up to our trek, I had imagined bears pawing our tent in the night. I had imagined falling from the side of a mountain. I had imagined stomachs turned from tainted water. The one nightmare I had not thought to imagine was fire.
The next morning, the air quality index in Sisters, Oregon hovered just below 100. We donned cotton Covid-19 masks and heavy backpacks. We parked close to the Tam McArthur Rim trailhead. And we set out on the Broken Top Loop Trail.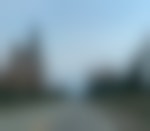 Despite its ominous prelude, our journey along the Broken Top Loop Trail was spectacular and interrupted only by comedic mishaps that are, I assume, typical of beginner backpackers.
Perhaps in reading about ours, you'll be spared some of the same backpacking faux-pas.
MISTAKING KEY LANDMARKS AND MISGUIDED OREGONIANS PART 1
About 5 miles into Day 1, we encountered our first obstacle: the trail.
After climbing the volcanic rim (for which the Tam McArthur Rim Trail is named), we savored our first view of the rust-red crater below and the Three Sisters to the east. We then stepped off the official Tam McArthur Rim Trail and onto an unofficial, yet well worn, use-trail described in a blog on The Outbound. This compilation of paths and alpine lakes was the basis of our three-day backpacking adventure. We would later learn that our route was not so much a rare collection of trails meticulously stitched together by a genius outdoorsman than an oft travelled path. And it had a name: the Broken Top Loop Trail.
Like all good beginner backpackers, we had prepared for our trip by researching our route. In our reading, multiple people warned about a treacherous part of the use-trail known as Broken Hand. Some recommended avoiding its steep, rocky terrain altogether by taking one of the less obvious, but still visible, use-trails to the south.
As we continued along the ridge, we kept our eyes peeled for both Broken Hand and ways to circumvent it. The problem was that we had no idea what Broken Hand looked like.
Luckily, we ran into a group of friendly Oregonians who wanted to know where we were heading. We told them our plan (still not knowing our entire journey could be summed up as the Broken Top Loop Trail) and they nodded in approval. In exchange, I asked them about Broken Hand. The self-appointed spokesperson of the group described it as something out of Star Trek—a reference that was lost on me. Like the people from our pre-hike research, he mentioned we could avoid Broken Hand, which had "terrified" some of the others in his backpacking crew, by following one of the paths to its right.
We parted ways, feeling reassured, though still confused about what Broken Hand was. Broken Top is a craggy mountain whose mass does not culminate in a neat singular point like the Sisters beside her. As we walked, we tried to visualize the broken mountain's broken hand.
Shortly after crossing the friendly Oregonians, we spotted an inconspicuous path to the right of an imposing rock formation that certainly could be Broken Hand. All accounts we had read before our hike insisted on bypassing Broken Hand via its southern side. And had we been slightly less directionally challenged, we would have realized that the path described by the friendly Oregonians, which we proceeded to follow, led north.
We carefully descended the sandy northern flank of what we assumed was Broken Hand into a pebbly valley. We marched forward until the Broken Hand-seeming rock formation was behind us. And then we trudged back up through the sand and stones to the original use-path.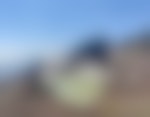 Exhausted from walking up and (falling) down sandy slopes, we perched on a boulder where we could finally see our day 1 destination: No Name Lake. Its milky green surface dazzled below us. In theory, bypassing Broken Hand leads you directly to No Name Lake. From our vantage point, we observed a web of paths, crowded with hikers, snaking away from the lake opposite of where we were.
We began to suspect that the friendly Oregonian might have meant his right, our left.
SILVER LININGS OF CELL PHONE SERVICE AND ALLTRAILS ACCESS
Before starting our hike, my partner and I switched our cellphones onto airplane mode. We assumed cell phone service would be faulty at best among the Cascades. Not to be led astray without pocket connectivity, however, we had dutifully purchased a map of the Deschutes National Forest for $25 at REI.
This is what we contemplated as we tried to find a route from the boulder on which we sat to No Name Lake below. More precisely, my partner contemplated the map. I billy goated from one rocky outlook to the next, refusing to believe we had gone the wrong way. Through my denial, I noticed another hiking duo who shared our confused expressions. I asked them if they knew how to get to No Name Lake, and they revealed that they too were lost.
Frustrated, I returned to where my partner was sitting. The lost hikers approached moments later. They held out a phone, opened to fitness and travel app AllTrails, and indicated a path leading from the blue dot that signaled our location to No Name Lake.
It was nothing less than a moment of revelation. For one, we realized that Oregonian cell phone service is strongest among mountains and craters. For another, the route the two hikers showed us on AllTrails was part of a longer trek labeled the Broken Top Loop Trail. And its 26 miles traced the same series of trails described by our guide on The Outbound.
My partner tucked our $25 paper map into his pack, where it sat for pretty much the rest of our hike. He switched off airplane mode on his phone and kept his screen open to AllTrails.
Again, we set off.
The good news was that we finally knew where we were going—a certainty padded by the combination of GPS and AllTrails.
The bad news was that, while we had indeed managed to escape Broken Hand, we still had to face her cousin. We knew her the second our now wonderfully clear path led us up her spire, which crescendoed in a red, rocky point. The challenge was not so much going up, but coming down this middle finger of a rock. The sandy ground descended steeply onto a narrow ridge. With mountain falling away on either side, one misstep would send us tumbling.
Embarrassing ourselves in front of a crowd of day hikers (and teenage boys), we slid down the spire on our butts before darting across the ridge like tightrope walkers.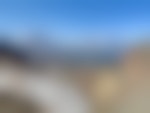 Feeling both shaken and accomplished, we allowed ourselves a lunch break on the ridge. The Sisters saluted our backs, Broken Top rose to our right, and No Name Lake lounged at our feet.

FALSE WEATHER FORECASTS
If there's one thing you internalize after reading Cheryl Strayed's Wild, it's the folly of overpacking. My partner and I had meticulously studied the weather forecast of Sisters, Oregon in the week leading up to our trip. We packed as few clothes as possible, all adapted for blazing 80 and 90 degree days.
Our first night on the trail, we understood that there is such a thing as underpacking. The weather in Sisters does not quite reflect the weather in Deschutes National Forest, especially when you're camped between mountain crests. Not only did the temperature drop significantly with the sun, but wind whipped our tent and howled haunting melodies all night long.
My partner froze. I, on the other hand, sweated in my sleeping bag as heat from my extraordinarily sunburnt legs radiated all around me.
On our second night in the woods, we learned another valuable lesson: never, never trust an Oregon weather forecast that promises zero rainfall. Neither of us had brought rain jackets.
EQUIPMENT MALFUNCTIONS AND MISGUIDED OREGONIANS PART 2
Day 2 on the Broken Top Loop Trail was stunning and serene. After more than 2,000 feet of climbing the day before, the gently rolling hills of day 2 were a treat. We covered the first six miles to Green Lakes quickly and enjoyed our pre-lunch protein bars in the majesty of South Sister.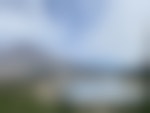 From there we continued to Golden Lake, where we took a long break to refill our hydration packs and cook lunch. Both of our readymade lunch packets were warming in boiling water when we discovered that our camp stove had turned off. It would not turn back on. A man at REI had assured us the 3.5 oz propane tank we bought from him would last all three days. And yet here we were— halfway through day 2—with an empty tank.
We had no choice but to forge onward, propane or not. We would go as far as we could that day, so we'd only have to hike five or six miles the next morning (and spoil ourselves with lunch in Bend). Our guide on The Outbound had noted that the last section of the trail curved through a burned forest in which camping was prohibited. Exactly how long the burned forest area was, however, we did not know.
About an hour after leaving Golden Lake, we passed a pair of friendly Oregonian backpackers (sound familiar?). Helpfully, they told us the Burned Forest was several miles long and that we'd pass a sign indicating one side where we could camp and one side where we couldn't camp.
Our legs ached from the 10 plus miles we had already covered, but we continued, hunting for the sign mentioned by the friendly Oregonians. It didn't come, even after charred stumps and skeletal tree trunks began to replace the bushy pines along the trail. As soon as it became clear we were in the thick of the burned forest, we backtracked.
Only as we left the path to search for a spot to pitch our tent did we finally come across a sign. It was minuscule and staked in front of a small clearing near the creek. "No Camping," it read. Several yards beyond that, we found a similar clearing with no sign at all. This must be the line of demarcation the friendly Oregonians were referring to. It was a bit subtle for our liking. The same could be said for the signage—or lack thereof—throughout the entire hike, but what's a beginner backpacking trip without a healthy dose of confusion?
For dinner that night, we experimented with a technique common among Youtube backpacking sensations: cold soaking. We poured our noodles into a pot, filled it with icy creek water, and let it sit for as long as our hunger permitted (about an hour). Though far from cooked, the noodles were soft enough to be edible. The dehydrated vegetables, on the other hand, did not blossom to life in the cold water. Instead, they peppered our noodle mixture like sprinkles. We ate it all.
BEGINNING AND ENDING WITH FIRE
The last six miles of our backpacking sojourn wound through a large swath of forest that was burned in the Pole Creek Fire of 2012. The trees were white and ghostly, stripped of their leaves and still wearing the scars of the flames that consumed them eight years earlier.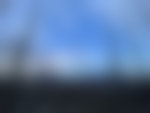 Having begun our trip fleeing the fires of California, it felt symbolic to end our hike in the burned forest. Even in this graveyard of trees, there were signs of new growth: tall, green grasses and pine saplings; large clusters of purple wildflowers. Through the acres of withered branches, we saw the sun rising over the Sisters.
As I'm writing this, more fires are devastating California, Oregon, and Washington.
Looking beyond 2020, the Covid-19 pandemic, and another hard year of wildfires on the West Coast, I hope that, like the burned forest, we are able to rebuild all that we have lost.

We want to acknowledge and thank the past, present, and future generations of all Native Nations and Indigenous Peoples whose ancestral lands we travel, explore, and play on. Always practice Leave No Trace ethics on your adventures and follow local regulations. Please explore responsibly!
Do you love the outdoors?
Yep, us too. That's why we send you the best local adventures, stories, and expert advice, right to your inbox.