Reflecting on Why We Backpack: Exploring the North Cascades
I escaped Spokane one springtime with a group of friends from our college outdoors club. We headed west and were met by rain, a picturesque view of Goat Lake, and characters from the trail.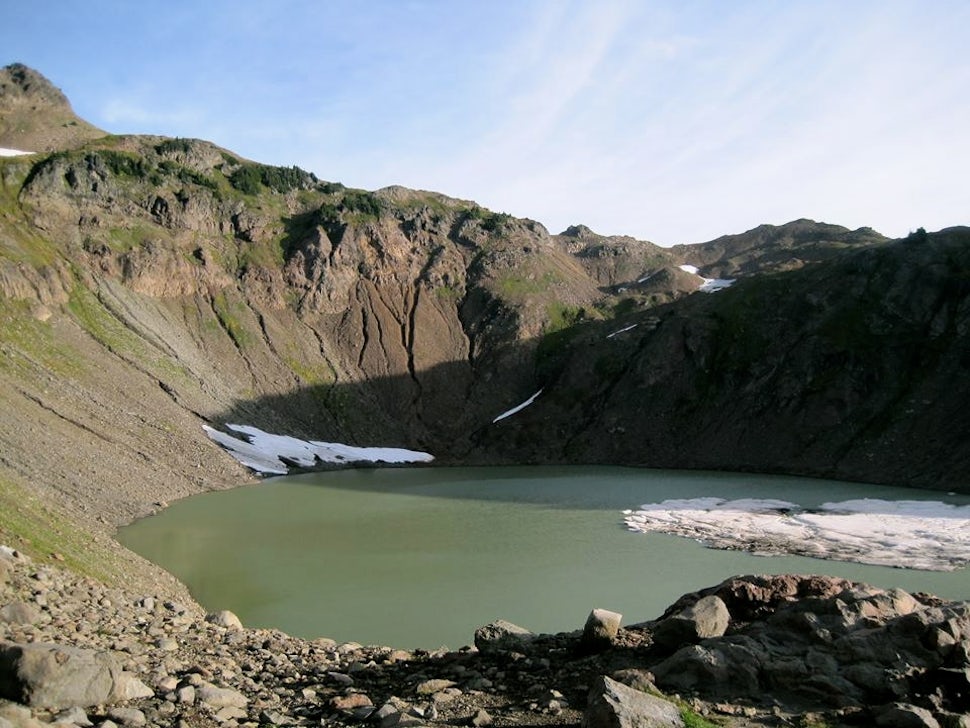 The dew had soaked us through like downpour. Droplets the size of pebbles collected across the top of each sleeping bag.There had been no hint of clouds the night before, when the stretch of sky above us was cluttered only with stars. We set a dozen sleeping pads in a row on the dirt road that led us to this camping ground in the darkness. After hours in the van, we wanted nothing to do with the tents that would only put boundaries between our eyes and the air and the vastness.
We woke up hours later in the shadow of the tall cliffs in Vantage, a climbing destination in central Washington. Their height and rough nobility were surprises that our campsite, like any place reached in the nighttime, held as a secret until morning. When the sun rose, it poured pink light across our wet bags, through the canyon beside us, and onto the remains of a wrecked car deep below. We shared oatmeal, packed everything back into the van, hit the road.
The trail head was another three hours past Vantage, and when we reached it we found little more than a couple of cars parked on the shoulder of the forest service road. The rain had already started, as expected, to drizzle consistently on our foggy surroundings. Backpacks piled out of the van, trash bags piled on, and we trudged onto the first stretches of the trail, warming stiff knees below us. I tested the space between my stretching toes and the front of my old hiking boots; found familiarity, and strains of my falling arches.
The rain beat down our energy over six miles, but yet I was surprised when I reached up to find my hair soaking wet, as if my enthusiasm had been shielding me from any threat of discomfort. There was no focus on weather – only focus on conversation, and word games, and stories that left us breathless on the uphill.
We hid from evening downpour in our tents, napping in the warmth and regretting once more the dampness of that morning's dew on our sleeping bags. Emerged to light our stoves and divvy up dishes of beef burritos and graham crackers frosted with cream-cheese icing – every food tastes better served in the plastic of a camping mess kit. Our fingers froze as we attempted to scrape the grease of the beef from the pots with pine cones.
I fell asleep thinking about how different I felt here, in a tent, from the inter-city campus where I lived. How much easier it was to listen to each other here. How much easier it felt to listen to myself.
The next morning brought us sunlight, and the absence of fog in the valley we had laid down our tents in. In silence, our eyes were glued to the light that crested the tree line on the horizon, and we stretched across logs to bask when it finally hit us.
Without fog, we discovered a waterfall on a distant ridge line and the stark, snow-covered presence of Mt. Adams in the sky. My eyes opened wider.
We climbed further in elevation and emerged above tree line. Up there, where campsites were scattered upon the trail's edge and where slate rocks replaced dirt below our feet, we stepped onto a leg of the Pacific Crest Trail.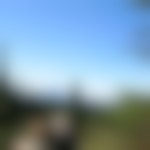 And then we met him. Turtle Don. 80 years old and 37 nights deep into his backpacking trip. He was waiting for us, it seemed, right before the trail crossed a snow patch and veered towards the final summit. We shout hellos, sense he has a story worth hearing, and invite him to join us for lunch.
The fellow hikers on the PCT were the ones to dub him Turtle Don, a trail nick name that alludes to his plodding yet steady pace forward. Years ago, Don started his trek at the Mexico border. He escaped from his routine, teaching in central California, for 40 days each season, and worked his way north on the trail in sections. Two years ago, he skipped the trip when his wife was diagnosed with cancer. Don lost his wife this January.
"She hiked with me for so long," he told us as we cut off slices of sausage and handed them in a circle. "And then when she couldn't, she let me go and have my forty days away every year. I realize how lucky I am for that."
Don carries four plastic water bottles in the pockets of his cargo pants. He misses cold beer, fresh pineapple, and cheeseburgers.
Maybe next year will be the season that he reaches the Canadian border. For now, he'll continue slowly down the trail, enjoying miles of land and his own presence. When he runs across groups of hikers, he'll stop to chat over lunch. Don is in no rush.
I went camping with eleven others, but solitude is the reason I always go to the mountains. I don't care about the number of people walking alongside me; this solitude is the absence of distraction. It's isolation in a valley, eyes open, breaths of silence. It's forgetting my to-do lists and writing about the sunrise instead. And feeling so small.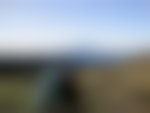 In the next seven miles of the trail, I discovered a glacial lake at dawn, a windswept high ridgeline where I dined on fruit snacks, and long downhill switchbacks through the trees. There was also an inexplicable llama, and we spent miles spinning tales of where that furry guy had traveled from, where he was going.
At the end of the trail, my right boot split from its sole as I pulled it from my foot. It was well worn by years of experiences like this, walking across stretches of the West. I have grown up on trips like this, found beliefs on trips like this, met best friends on trips like this. This time, I inhaled the refreshment of distance, and gripped to the clarity it would temporarily permit me. I am so lucky to continue to find myself in the mountains.
We want to acknowledge and thank the past, present, and future generations of all Native Nations and Indigenous Peoples whose ancestral lands we travel, explore, and play on. Always practice Leave No Trace ethics on your adventures and follow local regulations. Please explore responsibly!
Do you love the outdoors?
Yep, us too. That's why we send you the best local adventures, stories, and expert advice, right to your inbox.