Road-Biking in Tucson (Winter '22/'23)
Tucson offers a bounty of challenging routes, group rides, and scenery.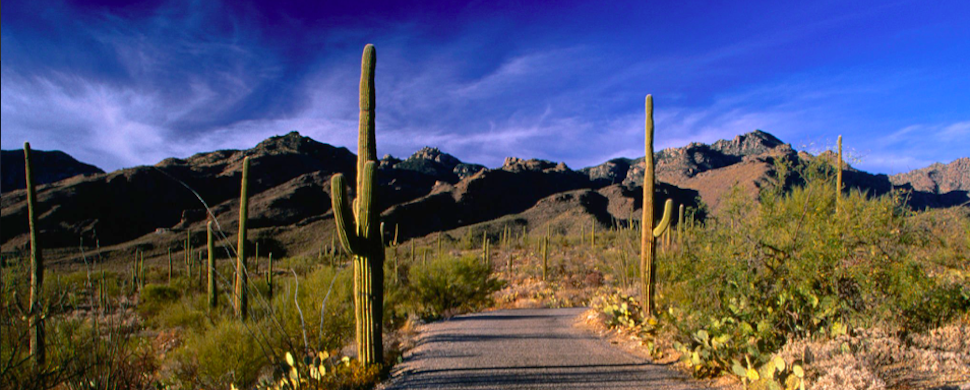 If you want warm winter weather, consider Tucson. I spent November through February. There were the occasional inclement days, but not too many. Snow on Mount Lemmon can also affect full-ascents, but you can mitigate with staying lower on the climb and doing repeats.
However, bring your winter apparel for chilly descents of Mount Lemmon, as well as early-morning Shootouts. If you wait until the afternoon, it does warm up.
For geographic context, the city of Tucson is surrounded by five mountain ranges. The most prominent, the Santa Catalina Mountains to the north, the Santa Rita Mountains to the south, the Tucson Mountains to the west, Rincon Mountains to the east, and the Tortolita Mountains to the northwest. Plus, Redington Pass separates the Rincon Mountains from the Santa Catalina Mountains.
Highlights:
If climbing (power:weight ratio) is your bailiwick, Mount Lemmon starts with sustained ~5% gradient for 20 miles (5,000+ feet of elevation) and then undulates to tiny town of Summerhaven. Optionally, take right at Ski Run/Hill Road for about 3 miles to ascend to ~9,000 feet. I did full-ascent six times.
Madera Canyon (Mount Wrightson) is another great climb from Green Valley. The last 5 miles is >6% gradient and the last 1 mile (from Santa Rita Lodge) is a beast. If you are doing Saturday Shootout, Madera Canyon is a challenging add-on. I did full-ascent six times.
Other "showcase" climbs are Mount Graham and Kitt Peak. Given elevations, check weather conditions in advance. Kitt Peak is officially closed, but people still ride it. Both are outside of Tucson metro area.
If you seek competitive group riding, consider Saturday "Shootout" with A/B/C alternatives at 15 minute intervals. Group rides start near university, but you can join along Mission. Just make sure to join before Strava's 50-mile segment, which is where Mission crosses Los Reales, around and back to same spot.
As you near Los Reales cross-street, expect MPHs to increase in earnest. While speeds will vary, expect A-group to average ~23.5 MPH with nasty surges, while B-group will average ~21.5 MPH. Group size also varies, but expect dozens of riders, which only increases as of January.
The Shootout heads south via Mission and circles back on Sahuarita/Helmet Peak. There is one bump, Shootout Hill. Check website for start times, which change per season. For added intensity, add Madera Canyon and/or Gates Pass. I completed Madera add-on three times and Gates Pass one time. Somehow, I showed up every Saturday from November through February. Only once did it rain and there no crashes. But, some of the early morning starts were hella chilly.
Saguaro National Park has two locations, one on east and one on west side of Tucson. At east park, pay $15 via credit card for one week privileges or buy pass for extended stay. There is undulating 8-mile loop, which is quite scenic. To the west, you traverse and loop around; there is no fee for biking in the area.
Routes start from all cardinal directions:
West: On the west side of Tucson Mountains, enjoy secluded (flat) roads with picturesque views as you extend west into Avra Valley. On the east side of Tucson Mountains, explore out and backs. Loop around via Ajo Highway or Irvington to the south or Ina Road to north. Otherwise, cross over Tucson Mountains via Gates Pass, which offers climbs going both directions, but also more traffic than desired.
Road-quality will vary and Tucson continues road-improvements. McCain Loop is poor surface, as is Sentinel Peak/A-Mountain. Picture Rocks is pretty, but has significant traffic. Trails End has new surface and is good for repeats. Sunset is another favorite and both boast low traffic.
East: Mount Lemmon is a rite of passage. Otherwise, access popular routes via The (Chuck Huckelberry) Loop including Saguaro East NP, Colossal Cave, Pistol Hill, Marsh Station, and Rincon Valley. You can also go towards Vail, Corona de Tucson, and Sahuarita for extended mileage.
South: You can ride the Shootout route or derivatives, including Madera Canyon and Gates Pass add-ons. Further south, there is a secluded ride from Amado to Arivaca out and back, which you can extend further towards Mexico border.
North: Routes are best accessed via The Loop (Canada del Oro;) wise to avoid Oracle highway. Near end Canada del Oro you can take First north, which offers bike path to Tangerine and then west to Twin Peaks or out and back via Dove Mountain.
As the maxim goes, location is everything. Therefore, your first decision is staging. I chose east side of Tucson, largely for Mount Lemmon. However, if I was coming again, I would stage on west side, thus closer to Shootout and other routes west, south, north. Most cyclists do stay on east side of town.
A metric that matters is distance from The Loop, because it can enable myriad routes. Pima County maintains Loop, by sweeping and clearing any obstructions, immediately after weather events. The (Chuck Huckelberry) Loop circumnavigates Tucson's urban jungle, which is a blessing. The Loop is virtually contiguous per myriad River Parks and Greenways (below,) which connected create 54-mile loop, plus tangents. Don't expect perfect placards when riding Loop, but overall it is well-maintained and useful.
Inventory expands by driving further to starts in all directions. Mount Graham is 2-hour drive from Tucson. There are a few regional winter races, as well as State Championship event in September. In November, El Tour de Tucsonattracts 7,500+ cyclists, including some of your favorite former World Tour pros.
Want gravel? The place is Patagonia; see Spirit World for courses; other popular routes, include Box Canyon and Mount Hopkins. Redington Pass is another challenging gravel ride. For MTB, see routes here. Swim much? Four heated city pools are open all year and admission is free. Too many excellent hiking options to list.
Endemic flora and fauna? Obviously, cacti is everywhere, but in Sahuarita there are rows and rows of pecan trees. When wandering through the canyons be on the lookout for squadrons of javelina. I've also seen two bobcats, deer, many coyotes and roadrunners. If you are considering Arivaca ride, consider extension to Buenos Aires refuge and its many species.
Tucson "winter sojourn" spanned October 29, 2022, through February 28, 2023. My weekly rhythm centered on Saturday Shootout, as well as Loop cruiser rides, hill repeats, and long-ride activities. Whereas, I assumed I would ride Mount Lemmon every week, the full-descents were just too cold for that to materialize. Late in the game, I realized you could do repeats on the lower sections of Lemmon.
In March and April, 2023, I am relocating to Santa Monica Mountains. To be continued…under separate cover.
Previous winters covered Santa Barbara County, as well as two winters in San Luis Obispo County. For comparison, Tucson stacks up well with strong cycling culture and fantastic weather. The drawback with Tucson is its sprawling geography, but if you simply want to train like a pro, this is the place.
Paso Robles offers superior "hub" for access/inventory to road and gravel routes. The climbs are challenging; scenery is great; population/traffic density is low. With a short drive to South County, one can access many more great rides.
Santa Barbara offers breathtaking views per epic climbs, e.g. Gibraltar. There are also group rides. The only drawbacks are high population/traffic density and at times road-quality.
Feel free to reach out (Comment on Strava,) if you have questions. This is also published on my Outbound page with other similar stories. All in all, I highly recommend Tucson for your next winter sojourn.
We want to acknowledge and thank the past, present, and future generations of all Native Nations and Indigenous Peoples whose ancestral lands we travel, explore, and play on. Always practice Leave No Trace ethics on your adventures and follow local regulations. Please explore responsibly!
Do you love the outdoors?
Yep, us too. That's why we send you the best local adventures, stories, and expert advice, right to your inbox.