The Ultimate Backcountry Skiing Experience in the Canadian Rockies
This is not your typical ski trip.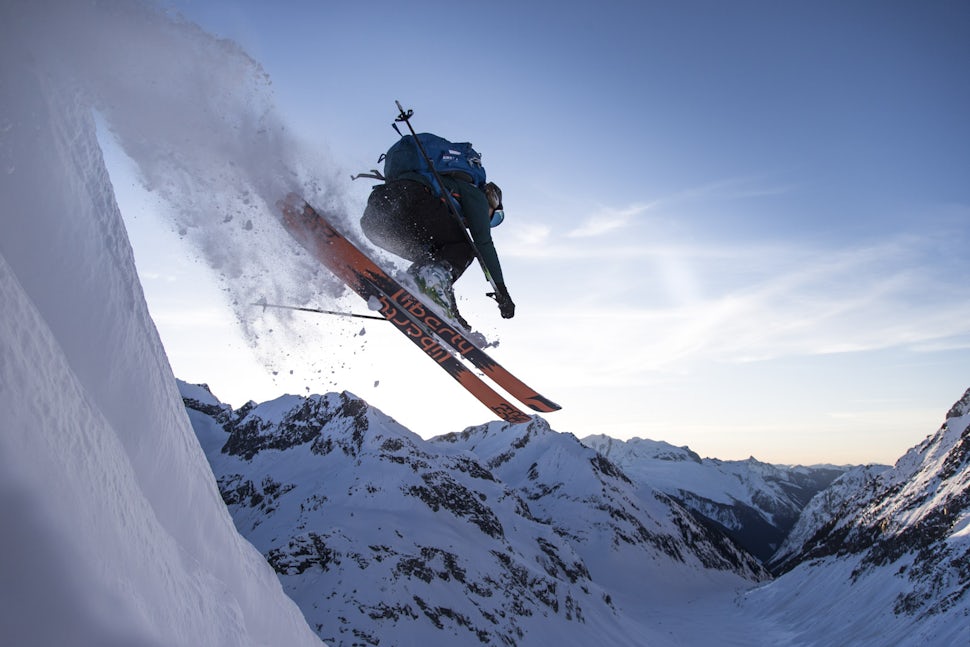 If the Selkirk Mountains don't ring a bell, you're not alone. Up until earlier this year, I had never heard of these mountains, nor was I familiar with the man who has turned them into one of the best skiing and climbing playgrounds on the planet.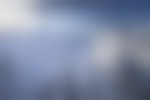 All photos by Mason Mashon

Ruedi Beglinger loves these mountains and has made it his life's purpose to enable thousands of other people to have unforgettable experiences here. He has covered millions of vertical feet, put up hundreds of first ascents, and placed some 10,000+ bolts over the years through his guiding expeditions and personal exploration.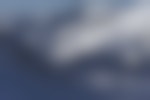 This past spring I joined Ruedi and Marmot Ambassador Meredith Drangin for three days of skiing the most incredible terrain I've ever laid eyes on with Ruedi's Selkirk Mountain Experience. I grew up in Salt Lake City, just 30 minutes from some of the best ski resorts in the world, and while skiing my home mountains will always have a special place in my heart, this trip was far and away the greatest skiing adventure I've ever had. The terrain, the unknown, and pushing myself (or being pushed by Ruedi, I should say) like I never had in the mountains made this a trip I'll always remember.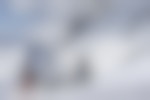 Marmot Men's BL Pro Jacket and Bib, Women's Barlioche Jacket and Refuge Pants
Day 1
Everything leading up to our heli flight into the Selkirk felt familiar: the trip prep, the travel, the tacos and beer in town the night before, and the pre-dawn alarm. I had been there before. But as the helicopter approached, the hum of the blades slowly grew to a roar and the blades whipped wind into my face like a freight train. I immediately recognized what an epic trip this was going to be.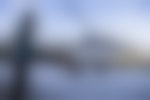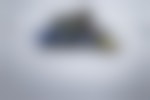 Marmot Longhauler Duffel Expedition Bag
I had never been in a heli before and felt like a little kid riding a ride at the fair as we cruised up and into the mountains. It was remarkable to see how routine and ordinary this was for the pilot; just another day in the most scenic office you could imagine. He pointed out different peaks and valleys like they were coffee shops and corner stores in his neighborhood.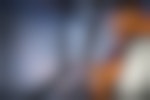 We made a quick pit stop at Durrand Glacier Hut where we were greeted by Sven, the most regal mountain dog I've ever had the pleasure of meeting.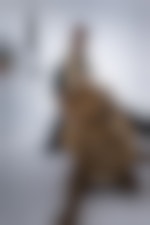 We also met Ruedi for the first time at Durrand Glacier. He's clearly an older man, but there's nothing about him that implies his body is aware of his age, except maybe his weathered face. He moves quickly, smiles brightly, speaks sharply, and is obviously the brains behind this entire operation.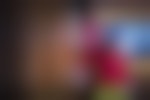 After soaking up as much Sven time as we could and perusing the photos and old climbing and skiing gear hung on the walls, we hopped back into the heli for another unforgettable flight.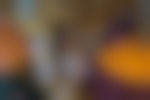 We winded our through more jaw-dropping scenery and finally came to our grand entrance over Dismal Glacier, just barely able to make out our final destination, Mt. Moloch Chalet. As the tiny dot of a hut grew nearer and our playground for the next few days materialized before our eyes, the anticipation built to an almost unbearable level. We were stoked! After settling into the Moloch Chalet, we set out on our first adventure, a quick tour to a nearby ice cave.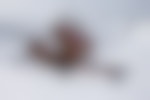 We popped off our skis and slide into the cave on or butts through a small, dark hole in the snow. I gathered myself at the bottom, dusted off some snow and looked up in utter amazement at the scene before me. Striations of blue and white like a sandstone slot canyon unfold all around me. Light dashes in and bounces around the cathedral of ice. I had seen images of ice caves and massive ice structures, but this experience epitomized the expression, "photos don't do it justice".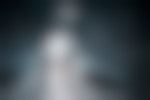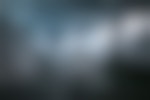 We all instantly returned to a childhood state of wonder and playfulness, sliding and climbing and running our hands along the walls of the cave. Ruedi knows this place like it's his own home. He toured us through the different sections like he was showing us rooms in his basement.
From the mouth of the cave, we looked up and scouted a few potential lines to ski. We set our sights on a large ramp across the valley and opted for the most direct route as we're running low on daylight. We switch-backed our way up a small climb to reach a very steep bootpack route. I've done my share of bootpacking, but for a few reasons, this one was spooky.
First, keeping up with Ruedi is no easy task and not wanting to slow him down, I didn't dare take any time to catch my breath. Second, the snow was very sugary and unstable. Meredith has even more experience than I do with this type of ski-mountaineering, and she was spooked, too. Every step felt like it might give. It didn't help that Ruedi regularly gave blunt advice such as, "don't fall here or you'll slide down that cliff and die." Last, the visibility was getting worse and worse which always makes me uncomfortable.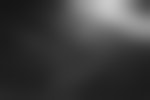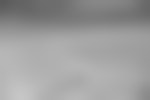 Slowly but surely, Meredith and I met Ruedi at the top. The visibility was too bad to scout the line and decide if it was safe, so it was back down the way we came. Again, visibility was very poor so skiing down the route we'd just climbed was probably the least pleasant experience of the trip. However, once we got to the bottom, we dropped in (half blind from the poor visibility) to the big open bowl and with a few fresh turns, all the stress of the last hour melted away and we headed straight into the hut with smiles on our faces for a delicious dinner. We spent the rest of the evening eating, drinking, listening to Ruedi's stories, and making a game plan for the next day.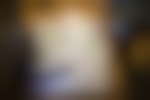 Day 2
As expected, Ruedi was cracking the whip first thing in the morning. Eat your muesli quickly, slug some coffee, and get your shit together. You did not want to feel Ruedi's eyes on you if you're behind schedule.
On our tour the day before, Ruedi had pointed out the ladder climbing up the rock walls across the valley from the hut. "That's where we go tomorrow," is about all he had said about it. It was slightly ominous, but I was stoked.
We skinned across, strapped our skis to our backs, and made our way up the ladders after Ruedi furiously dug out a platform of snow at the base of the ladders for us to stage.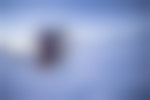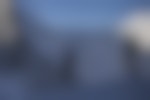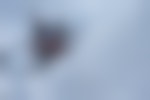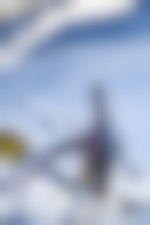 The ladders were such an amazing experience! I'm a climber and I'm a skier, but rarely do I combine the two like this. No ropes or backup of any kind, just a firm grip and big, clunky ski boots. Every little slip I reminded myself of the severity of the consequences of a fall. It was unsettling, but nothing I wouldn't do again.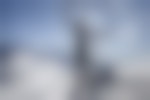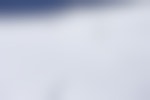 Topping out on to secure ground was fantastic. Not only because of the security, but we now had a full view of the terrain we'd be skiing. The sun was creeping in so we needed to move fast to get to the goods before the sun did. Ruedi sets a pace like nobody I've ever toured or hiked with. The man is a machine! I was shedding layers like my life depended on it.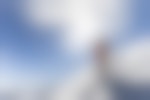 The day was clearer than the day prior and as we climb, the vastness and density of the Selkirk becomes more and more apparent. It was truly stunning. Endless peaks in every direction! We ran a few laps in the area directly above the ladders, chasing the sections with the least sun exposure. Ruedi, Meredith, and I take a few runs side-by-side to cap off a very pleasant, mellow morning of skiing.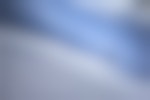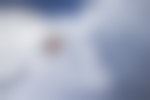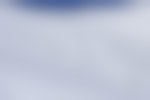 To finish off the day's tour we headed to our elusive destination from the day before. The ramp we couldn't quite reach, a line dubbed "Princess Bride," was now directly in our cross-hairs. It's a gorgeous line. A wide, elegant ramp painted across a massive rocky cliff. At the base of our run, just above where we topped out on the ladder, we begin the final ascent of the day up and around the top of the ramp.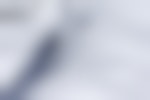 You can see "Princess Bride" to the left.
I arrived at the top a few steps behind Ruedi (in reality, he'd probably been there a solid 20 minutes before me) followed shortly by Meredith. We eat our lunch under the blue skies and I knew this was going to be the best line of the day. I was fortunate and unfortunate enough to drop in first. From the entry you can't actually see the ramp itself. First, you must make your way through a gently sloped, curving section, dodging rocks all the way.
Seconds before I dropped, Ruedi shared his brutally honest advice once again. "Don't ski too far right or you'll slide off the edge and die," he said with a completely straight faced. I'd call if "tough love" but I'm pretty sure Ruedi doesn't love me, though I think he liked me alright. I played football for most of my adolescence and had my fair share of hard ass coaches, so I can appreciate this type of guidance.
Needless to say, as I dropped in I was amped. Adrenaline was pumping and the unknown was just out of sight, growing closer with every turn. Every moment was a decision and a rush of adrenaline. I was constantly seeking a balance of enjoying each turn and staying off the right edge of the cliff to avoid a fall to my death, as Ruedi had instructed.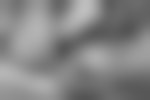 After a couple turns, I had my bearings, knew where I needed to be, and let it rip. As I reached the end of the ramp, I picked my line down into the bowl and after a couple big, fast turns, I shot straight and let it ride as long as I could into the flat of the glacier. I can't think of a single run in my life that was so exhilarating. It was truly sensational. Just plain fun!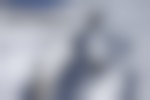 Meredith and Ruedi made their way down and I relived every minute of my run as I watched them. I was riding high all night. The epic run down Princess Bride, the camaraderie of the team as we all got more comfortable with each other, and the salmon and lasagna dinner made for an all-encompassing warmth.
Day 3
Our morning routine was pretty dialed by now. Eat, drink coffee, pack up, skins on. It was already so familiar, like this was our life now. It made it that much harder to accept that this was our final day.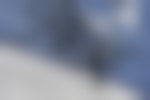 We followed Ruedi's tracks in the opposite direction of the Princess Bride, heading this time to summit Zwilling West ("zwilling" is German for twin, so naturally, the counterpart is the neighboring Zwilling East). This was perhaps our longest stretch of straight skinning on the whole trip and all of us (except Ruedi) were feeling it.

However long the ascent was, it was all forgotten immediately upon reaching the summit. This was our first true 360-degree view and somehow the bluebird day seemed even clearer than the last. This was our only real objective of the day, so we soaked up the summit for some time. We ate our lunches, rested, and prepped for the descent.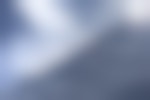 The ride down was all play and no work. We didn't have big plans or a timeline to meet. We just cruised, alternating between sun-soaked corn and light, fluffy powder, smiling ear to ear. To make our casual day even more luxurious, we spent a good portion of the afternoon snacking and resting. I even took a solid hour nap basking in the sun inside the hut. Pure glory.

We decided we needed to squeeze in one last sunset session. The sunset was out of this world and we had an amazing time playing on a few particularly inviting features just above the hut.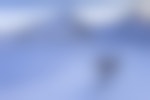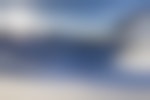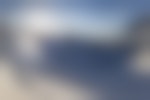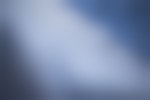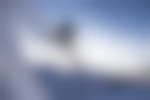 Airing out over the sunset, throwing smoke into the golden light, and returning to the hut under twilight. Nobody could argue we didn't take advantage of every second we could that day. Except for maybe my cat nap.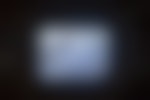 More than just the helicopter rides, more than the epic lines and cozy hut life, this trip was unlike any other because of the unknown territory that Ruedi pushed us into. I'm a creature of habit and would be content skiing my home mountain for the rest of my life, but this trip was a reminder of how important it is to get out of my comfort zone and explore the unknown.

We want to acknowledge and thank the past, present, and future generations of all Native Nations and Indigenous Peoples whose ancestral lands we travel, explore, and play on. Always practice Leave No Trace ethics on your adventures and follow local regulations. Please explore responsibly!
Do you love the outdoors?
Yep, us too. That's why we send you the best local adventures, stories, and expert advice, right to your inbox.