Dare to Challenge Winter in the Mount Baker Backcountry and the Payoffs Can Be Monumental
An overnight experience in the heart of the Mount Baker Wilderness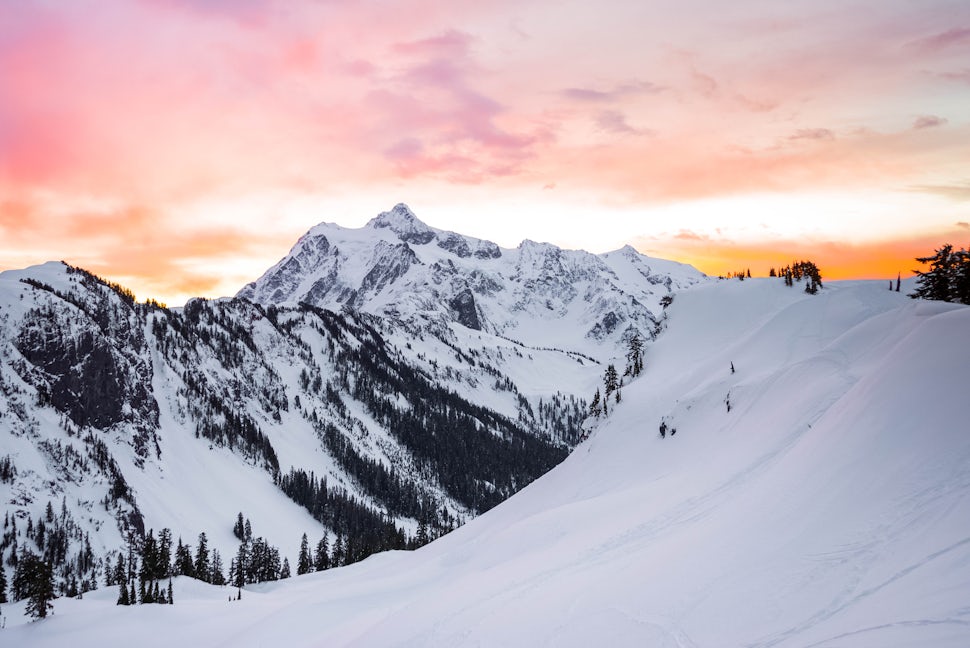 Take a moment to just look as far as you can see.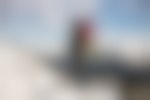 Basking in the reality of the moment. Photo: Randy Gordon

Once you're up there and doing that, you're off to a pretty good start in the backcountry of the Mount Baker Wilderness. In the midst of some of the most stunning scenery that Washington State has to offer, there is endless beauty in all directions. From the moments your winter suitable vehicle whips into the parking lot located at Mount Baker Ski Area you will know exactly what kind of setting you are getting yourself into.
Staring directly towards Mount Shuksan and its towering pinnacles at just over 9,000 feet, you head out; map in hand, a heavy pack full of winter essentials strapped to your back, and snowshoes or skis on your feet. With some of the deepest snow pack in all of North America, failing to have either becomes difficult and even quite dangerous.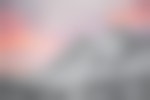 Sunrise above Mt. Shuksan as seen from the Mt. Baker Ski Area parking lot. Photo: Randy Gordon

As you ascend from the parking lot, climbing and streaming frosty ridge after ridge, your eyes beginning wandering in all directions. First, a glance towards the nearing Shuksan, then back in the direction from where you just left at the Border Peaks. You are gaining elevation now and the possibilities of where to head are becoming quite endless.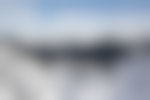 Border Peaks from the base of Table Mountain. Photo: Randy Gordon

Continuing onward, marvel at the sweeping views of Coleman Pinnacle, Mount Baker, Ptarmigan Ridge and Table Mountain. So far, this has become the easy part. The day has begun and is well underway. You stand where you are, pack is heavy but still comfortable and still full of plenty of energy, especially after the rush from the views that are being witnessed. Now its decision time.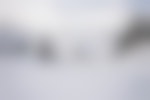 Untouched snowy wilderness leading to Mt. Baker. Photo: Randy Gordon

Up here, that's what we faced on a weekend nearing the end of the month in January 2017. The day was still young and the sun was periodically poking through the clouds bringing life and warmth back to our fingers, cheeks and noses. We had nothing but time and although the thought of a relaxing day in this moderate and mild weather sounded keen, we had our thoughts on something larger and challenging.
After a brief stay at Artist Point and adequate time spent in awe of Mt. Shuksan, we developed a plan.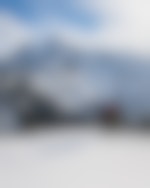 Up close with Mt. Shuksan. Photo: Randy Gordon

I checked my watch; 11:30am. With sufficient time, the plan then became to tackle the traditional summer trail, the Chain-Lakes Loop. In the summer, this trail is a 9 mile loop trail, spanning the perimeter of Table Mountain. With winter conditions, we figured we would be able to safely navigate that distance down to just over 6 miles.
Before heading out we discussed the weather conditions of the day. Collectively, we determined that since the sun had not been beating on the slopes of Table Mountain that it would be safe to travel around the base. As with all winter backcountry travel, it is important to bear in mind the severity of avalanche risk and danger. The ability to survey avalanche shoots and accounting for current condition played pivotal roles in ensuring the success of our travel.
So, it was set. With every stride we distanced the gap between a busy ski area and true solitude.
With Mt. Baker in our sights directly ahead, we hugged the mountain beside us.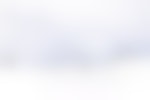 Breaking trail in the backcountry. Photo: Randy Gordon

Soft, glistening powder bounced off of our snowshoes as we created our own new path. It served as a simple reminder of why we do these crazy things outside. That feeling, somewhat indescribable, of freedom, living fully in the moment and embracing the thrill of the uncertainties to follow.
This excitement soon came in the form of glissading down a steep slope that would bring us down into view of Hyas and Iceberg Lakes.
Glissading into the valley below. Photo: Randy Gordon

With our gear securely fastened, we took turns, one after another on the roller coaster of the backcountry. Ask any hiker; there is little that compares to the rush of speeding down a sharp, snowy slope at incredible speed.

We carried onwards, continuously peering over our shoulder at the shadowed, snow-covered Ptarmigan Ridge and the beauty that is Mt. Baker.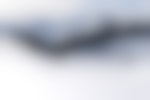 A shadow covered Mt. Baker. Photo: Randy Gordon

Roughly four miles in we began our approach to Icicle Lake. The packs were starting to take a toll on our backs and as we looked ahead to crossing the lake we knew we were going to have one final major climb until we were headed back towards were we would eventually camp.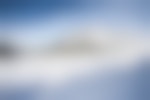 Crossing Iceberg Lake. Photo: Randy Gordon

We stepped on to the frozen lake and from the middle looked shore to shore. After relishing the moment, the ascent to Sherman Saddle was our next task.

We traversed the far slope, closest to Table Mountain. Upon reaching the top of the ridge, three hours of this adventure had passed and we decided to take the quickest route possible to where we eventually would settle in for the night.
After a total of over 10 miles and 3,000 feet of vertical elevation gain, we made it to our spot just in time for the non-existent sunset. With Baker to our backs and Shuksan to our front, we dug a pit and staked our tent.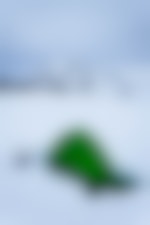 Snow camp near Artist Ridge. Photo: Randy Gordon

With dinner on the stove and light quickly diminishing we scarfed our food and hunkered down for the evening.
Silence filled the air and my eyes where captivated on the words of a good book lit up by the glowing light of my headlamp. Warmth radiated from my sleeping bag and I was quite content sheltered in at 7:00 PM.
It's a special feeling, camping among temperatures most dread. There is a strength felt in being able to survive comfortably through the beautiful and difficult conditions produced from winter. This weekend however, we lucked out as the weather couldn't have been more mild.
Later on in the evening, we briefly peered outside to the surprise of twinkling specks overhead; giving literal meaning behind the popular saying "million star hotel."
Well rested, we rose at day break, unzipped the tent, and began breaking down camp. Light started to break off of Mt. Shuksan and we were to realizing what we were about to experience.
An array of color, like that of which you would see on a painting, suddenly burst, filling the sky with luminescent color.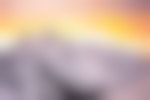 Hues of orange, yellow and purple above Mt. Shuksan. Photo: Randy Gordon

There are moments in life that, quite frankly, take your breath away. The Mt. Baker Backcountry lacks no shortage of these moments. However, it is an unforgiving and unrelenting place, especially in the winter. For those who prepare and dare to challenge such a thing, the payoffs can be monumental.
We want to acknowledge and thank the past, present, and future generations of all Native Nations and Indigenous Peoples whose ancestral lands we travel, explore, and play on. Always practice Leave No Trace ethics on your adventures and follow local regulations. Please explore responsibly!
Do you love the outdoors?
Yep, us too. That's why we send you the best local adventures, stories, and expert advice, right to your inbox.