Rafting the Lower Deschutes
A spring trip on the Lower Deschutes from Warm Springs to Sandy Beach.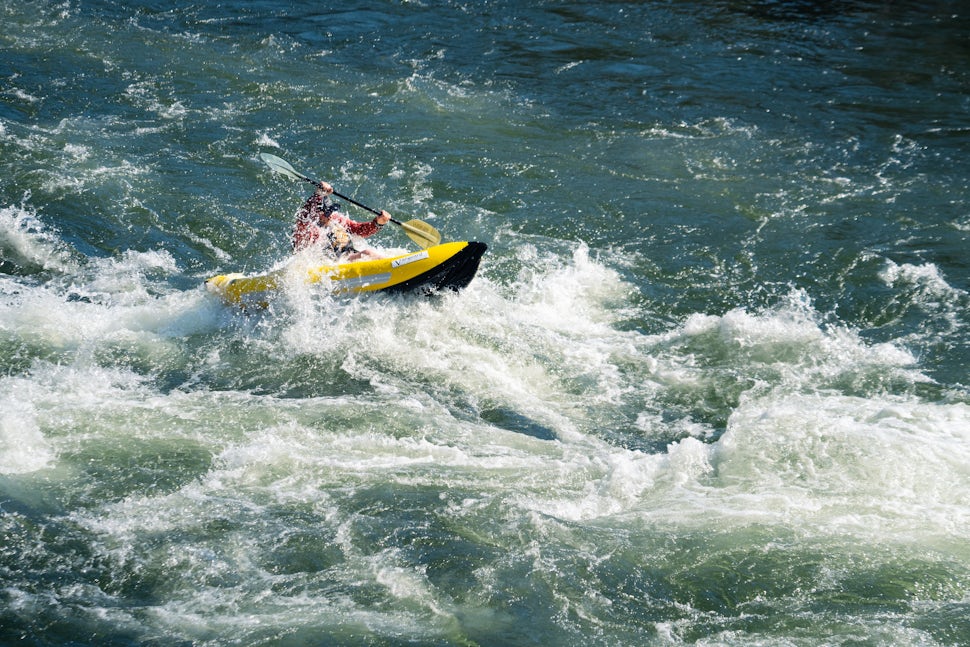 As the pandemic raged on, I found myself stuck at home and in need of adventure. After years of thinking about ordering a raft, I decided it was time. Months later it arrived and I was ready to get on the water.
I called up my friends Hugh and Doug to set up a trip together. It had been a decade since I'd guided, so I asked them to keep that in mind. They suggested the Lower Deschutes from Warm Springs to Sandy Beach, a classic three day stretch. Doug and Hugh would do the float in inflatable kayaks (IKs) while I carried all our gear down the river in my raft.
It wasn't until I started to do my own research that I realized what stretch of water we'd be running. I'd done the final miles of the trip before as a passenger on a friend's boat. It had a reputation. My main fear was Oak Springs (IV). Though a single drop, it had a penchant for knocking people out of boats. Even tipping rafts was a real possibility and you didn't want to end up swimming. Right below were rocks named Cheese Grater and Meat Grinder for what they did to anyone who found themselves in the water. It intimidated me, but I decided it would be a good test.
We pulled up to the put-in on a crisp spring afternoon. Large white cumulus clouds rolled through the sky as the sun shone down. I started rigging the boat.
By the time we pushed onto the water the weather had changed. Dark clouds rolled in and it started raining. As droplets pattered on my rain jacket, I found myself smiling. It felt right to be on the water after years away. The rain poured down, christening the boat. We were ready for a new adventure.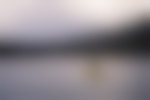 The current carried us forward and the clouds started to clear. We passed through riffles and small rapids. I worked on pushing into waves and pulling away from obstacles. I was reacquainting myself with the boat and it was coming back to me.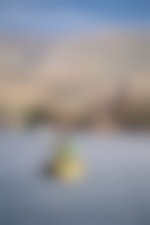 As the day passed, my first real test was approaching. Before our campsite lay Whitehorse Rapid (III+), a ½ mile boulder garden requiring multiple moves.
We stopped to scout. From the shore above the river, I could see my line. I needed to go over a feature named Moose Knuckle, pull to the left of Hog's Back, then pull back right to stay away from the dreaded Can Opener and Oh Sh*t. The line was obvious. I just needed to follow it.
I walked back to my boat, climbed down the bank, and pushed off. Almost immediately, I realized it was going to be more difficult that I had imagined. I had seen the line from above, but at water level it wasn't as clear.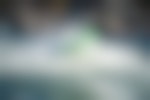 Everything started to move fast. I was on top of Moose Knuckle before I'd correctly identified it. I started pulling to the left, but Hog's Back was bearing down on me. I didn't have enough time. I was going to hit it. I made the decision to bounce off right and found myself coming off the rock backwards.
I stayed calm. It wasn't the line that I'd wanted, but I'd avoided Can Opener and Oh, Sh*t. I waited for the right moment and turned around. The wave train carried me through. Relief washed over me.
We pulled into camp as the sun hit golden hour. It'd been a big first day. It felt right to be on the water and I'd made it through. There was a part of me that was happy, but my run through Whitehorse kept playing through my mind. I'd easily made it through all the smaller rapids, but time seemed to speed up once the waves got bigger. I was worried about what lay ahead.
The pace of the river slowed on our second day. We had less ground to cover and just floated along as the river meandered through the canyon. I found myself reclining, feet propped up on the cooler. Time passing slowly.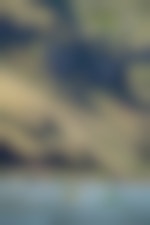 Basalt columns lined the riverbank. Ospreys floated in the air. The sun warmed my skin and a slight breeze offered relief. Our boats passed below the jagged rocks above, small dots in the current.
As we approached camp, we had one rapid left to run, Buckskin Mary (III). My struggle from the day before played through my head. The rapid is supposed to be able to be run on the fly, but I wasn't sure.
I saw it ahead and stood up to get a better read on it. It looked straightforward. A single drop followed by a wave train. My confidence grew and I elected not to scout it.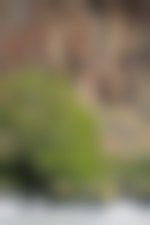 I made some adjustments and waited. The river carried me forward. Inch by inch we crept closer. I found my line, straightened my boat, and waited as the river slowly pulled. I hit the drop right through the middle and entered the wave train with a smile on my face. We entered camp with the sun still high in the sky and celebrated the day with barley waters along the shore.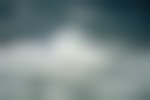 I awoke to cool air on our final day. My anxiety had been building throughout the night. Most of the biggest rapids lay ahead and I wasn't sure what to expect. Whitehorse and Buckskin Mary had been completely different experiences for me. I didn't feel like I had any time to react on Whitehorse, but on Buckskin Mary it felt like time was at a crawl.
We pushed on the river and began with some easy floating. I practiced maneuvering with any obstacle that I could find. Waiting until the last second to pull away from a rock, fitting through narrow gaps near the shore. I wanted to be ready. The river was moving slowly, but my mind was racing.
We reached the first rapid, Wapinitia (III). It starts with a drop where a rock island splits the river. I pulled into the right channel, straightened my boat, and held on. My excitement grew with each wave I crested. Water splashing. Boat rocking. I was enjoying the moment so much that I almost didn't notice a giant rock ahead. I pulled to the right and missed it as the rapid came to an end.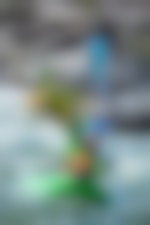 Boxcar (III) was next. The river turns right and leads into a ledge drop. There is a large hole on the left that is best avoided. I hugged the inner edge of the river as I approached the rapid, but the current started pushing me to the left. I angled away and pulled hard, but it seemed of little use. It looked like I was heading right for the hole. I kept pulling and straightened out at the last second missing the hole by a couple feet.
The river slowed, offering a brief respite. Oak Springs (IV) was next. My anxiety grew with each turn of the river. By the time we stopped to scout Oak Springs, my heart was pounding. I got out of the boat and walked ahead.
Hugh pointed out my line. We were going to be taking the right channel where the river narrowed. It led to a big L shaped drop. I needed to stay towards the left side of the drop where I could hit a more gradual tongue. But if I went too far left, I'd hit the island and be spun sideways into the drop. There was little room for error.
I took a few deep breaths to try to slow my heart rate, but it was too late. There was no calming my nerves. Hugh and Doug dropped the rapid. It was time for me to follow.
I pushed onto the river and into the right channel. I angled my boat 45 degrees to the river so that I could pull to the left if needed. The river carried me closer. My line came into view. It was narrower than expected, but I had time to adjust. I pushed forward a couple strokes and got lined up. The current pulled me towards the drop. I pulled back to the left and onto the tongue, the back of my boat barely missing the island.
Elation swept over me as I bounced through the rocks below. I made it. I was ready for another summer on the water.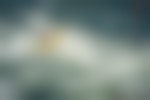 Images and Words: Ben Kitching
Boaters: Hugh Russell and Doug Izzo

Ben Kitching is an adventure photographer, climber, skier, and whitewater enthusiast based out of Bend, Oregon. For more adventures and images visit benkitchingphotography.com.
We want to acknowledge and thank the past, present, and future generations of all Native Nations and Indigenous Peoples whose ancestral lands we travel, explore, and play on. Always practice Leave No Trace ethics on your adventures and follow local regulations. Please explore responsibly!
Do you love the outdoors?
Yep, us too. That's why we send you the best local adventures, stories, and expert advice, right to your inbox.