Thailand is More Than Just Beach Parties
Experience Northern Thailand- a place that contains more beauty and rich culture than any photo could capture.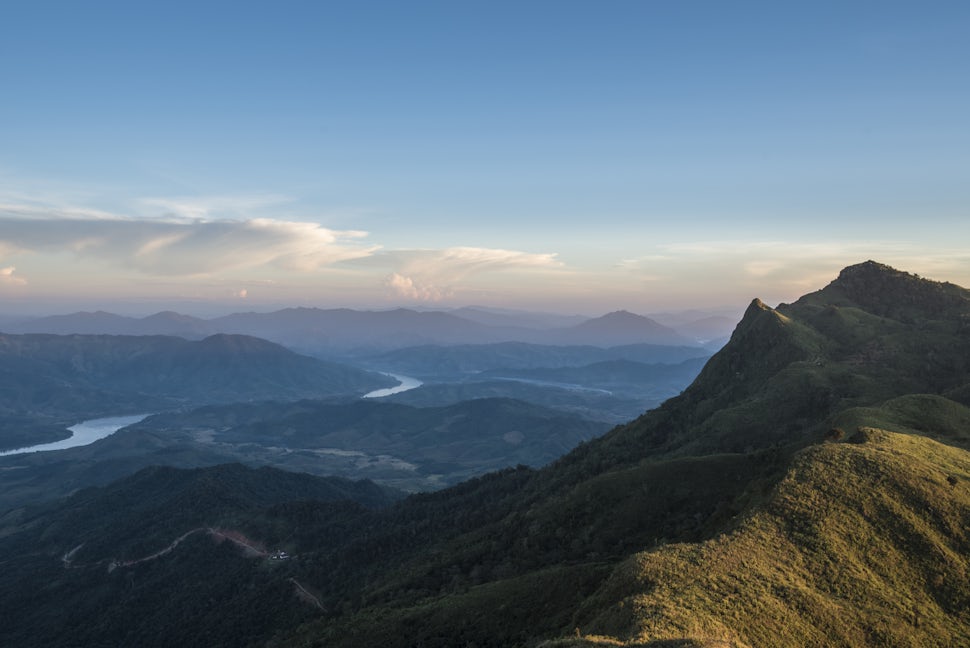 About three months ago I packed my bags and moved to Thailand. I tried to wipe out all expectations on what was waiting for me, and enter this new country, and new experience, with an open mind. A clean slate.
Often times we get caught up in chasing those pretty, Instagram-worthy photos - I've found myself in that position many times. Google search "Thailand" and go to images. You will begin scrolling past countless photos of long-tailed boats on pristine beaches, you'll see photos of temples with no people in sight, and you'll see photos of elephants being ridden. Is this really Thailand? Before coming here these google images were all I knew. But now I know these images are far from the truth. Thailand is much richer than these google images, and is host to more adventures and learning experience than these photos can begin to describe.
Maybe it is a bit controversial then for me to tell you or give you advice on how to experience this country for yourself, but I hope these few suggestions allow you to find your own beautiful pockets of Thailand and learn about the incredible Thai culture along the way.
All these are specific towards Northern Thailand because this is where I live and where I find Thai culture really shines.
1. Throw out any preconceived expectations.
I think this is the most beneficial step you can take when traveling to any new country. Yes, ask for suggestions, do your research, but don't be afraid to let these plans change and be prepared for the unexpected. When deciding to live in Thailand for a year, I didn't know much about the country. I'd been told about how much people loved the locals and how much fun they had but besides that I never dug for more details. And I'm very thankful I hadn't. Everyone has their own outlook and purpose for traveling, which is why having an open mind when arriving in a new place is key. So far this mindset has allowed me to be amazed by everything I've discovered here. I believe I get to live in the most incredible town in Northern Thailand, I think every mountain I see is the most beautiful one, and I believe every local I interact with has my best interest in mind.
I hope you continue reading for more of my suggestions, but also take them as a grain of rice and don't let my experience or my advice shape your entire Thailand Experience
2. Don't expect to go on multi-day backpacking trips.
This was a little hard for me to accept at first, but I've come to find joy in other activities because of this. I just assumed that Thailand would be like the west coast - packed full of hiking possibilities. But this preconceived notion was quickly proven false. Most Thais don't go out hiking on the weekends, and the mountains are overgrown with jungle plants so going off trail is not as convenient. There are lots of fun shorter day hikes, mostly to waterfalls, but good luck if your intent was to come to Thailand and sleep in the backcountry every night. Maybe you'll find a secret backpacking society I have not yet discovered - let me know when you do.
3. Not your typical American national park.
National parks are abundant here. And their conservation efforts are quite impressive as well. Infrastructure wise though, they are quite different than national parks in the U.S. But similarly, getting into a national park sometimes costs money and sometimes it doesn't, depending on how big and popular the park is. And of course if there is an entrance fee, foreigners always pay way more than locals. Inside the national parks you will find an abundance of waterfalls, places to camp, hiking trails, and wildlife. But don't worry about booking a campsite in advanced, just show up - this is good advice for a lot of things in Thailand. And no, you will not be handed a brochure filled with all the trails and background information of the park upon your arrival. There are visitor centers though and plenty of wooden signs directing you towards the parks features.
4. Get lost in a rice field.
Find a road and just follow it for a while. This can lead to one of your best, most local, experiences in Thailand. It's a different kind of adventure from hiking cross-country over granite slabs, but it's still an adventure all the same. If you get lucky, your road will eventually turn to dirt, you might find yourself in a hill tribe greeted by confused but smiling faces, or you might end up in the middle of a rice field as your road comes to a dead end.
5. Establish a base camp.
Find a city you like and post up there for a while. Day adventures are abundant surrounding large cities (except for Bangkok, just avoid that city if you can), and staying in one spot will allow you to get a feel for how life operates in Thailand. Up North you have quite a few options, but I highly suggest both Chiang Mai and Chiang Rai. Chiang Rai is a smaller version of Chiang Mai so their isn't as much to do downtown but plenty of day trip or overnight get aways are nearby. So now I'll take the time to make a trip suggestion because it has been the highlight of my time in Thailand so far. If you find yourself in Chiang Rai, take an overnight trip to Doi Pha Tang (for sunset) and Phu Chi Fa (for sunrise). If the weather permits, you will witness an incredible sunset and sunrise back to back, with a clear night sky full of brilliant stars sandwiched in the middle.
6. The phrase "Tao-rai?" can get you around.
Please learn some key Thai phrases. Locals will give you a large smile (and maybe laugh a little) if you are able to incorporate some Thai into your interaction with them. Especially if you find yourself in the major tourist areas where you will be a breath of fresh air for the locals. Also if you get outside of the cities, many Thais have very poor to no english so don't expect them to understand anything you are saying besides "hello." A couple key phrases are "Sa-wa-dee ka/krap" (Hello), "Tao-rai?" (How much?), and "Kop-khun ka/krap" (thank you). [ka if you are female, krap if you are male]
7. Try to find a local wearing short shorts and a minimal top.
You won't. So please don't pack your shortest shorts and tightest shirts. Thailand is still a pretty modest country, and if you want to enter any of the temples both your shoulders and knees must be covered. I'm not saying you can never wear shorts or a swimsuit in Thailand, just be aware of your surroundings and notice what the locals (not the other tourists) are doing.
8. Elephants, monkeys, and geckos...oh my!
Find an elephant sanctuary that doesn't chain, hook, or ride the elephants. Thess wild beasts are just that, "wild" and don't deserve the cruel treatment of places that use them just for financial gain. So don't even stop and give those places that do chain, hook, or ride any attention (sometimes they will be right on the side of the road and it may be tempting, but keep driving).
Monkeys are cute, they are my favorite animal. But the monkeys in Thailand are like the squirrels in Yosemite - they just want your food. And just like squirrels, monkeys are wild animals too. So please avoid feeding them (or touching them) and keep track of your belongings so a monkey doesn't get the chance to rummage through your things for gold (aka your food).
And geckos are cool. Tokay Geckos like to live in people's houses (I have at least 3 in the walls of my house). These colorful, "giant lizards" aren't dangerous but they can bite and latch on, so I wouldn't suggest finding a wild one and trying to train it as your next pet.
9. Beach life is not Thai life
I love the beach and I love the ocean. But full moon beach parties, bars open 24/7, and trash covered sand are not Thailand. Although enjoyed by many, they are simply additions to this country that came about to make more money off Westerners. Go have your fun if that is your scene, but please also give yourself time on your trip to head up north or away from the most popular beaches to discover the "real" Thailand.
10. Good luck leaving
Within a couple days I had fallen head over heals for Thailand. If you give yourself an open mind and open heart, I'm sure the same will happen for you as well.
We want to acknowledge and thank the past, present, and future generations of all Native Nations and Indigenous Peoples whose ancestral lands we travel, explore, and play on. Always practice Leave No Trace ethics on your adventures and follow local regulations. Please explore responsibly!
Do you love the outdoors?
Yep, us too. That's why we send you the best local adventures, stories, and expert advice, right to your inbox.