Hunter Cove
About Hunter Cove
Overview
Hunter Cove Park is located on the eastern end of Harlan County Lake near Republican City, Nebraska.

The 13,000-acre Harlan County Lake is the second largest lake in Nebraska. The lake and surrounding land hold great appeal for sportsmen, birders, naturalists or anyone wanting to just get away.
Recreation
Harlan County Lake is popular for fishing, hiking, hunting and boating.

Walleye, wipers, white bass, northern pike and channel catfish are the most sought-after fish species. Game animals include pheasant, quail, prairie chicken, white-tailed and mule deer, turkey, waterfowl, rabbit and squirrel.

The lake offers a variety of hiking trails of varying length and style, as well as one equestrian trail a short drive away. An off-road vehicle trail is located in nearby Republican City.
Facilities
Hunter Cove Park offers 150 campsites, both with and without electric hookups. There are also several tent-only sites.

The facility provides two playgrounds, a volleyball court and a boat ramp and two full service marinas are located on the east end of the lake.

The main road is hard surfaced, while others are gravel. A fish cleaning station with grinder and running water is located near the entrance.
Natural Features
Located in south central Nebraska, lands surrounding Harlan County Lake are primarily mixed grass prairie land. The campground is mostly forested, offering ample shade during the warmth of summer.

The Republican River Valley was once occupied by one of the greatest concentrations of buffalo on the Great Plains and was a favored hunting ground for the Pawnee, Sioux, Cheyenne, and Arapaho Indian tribes.
Camping and Lodging in Republican City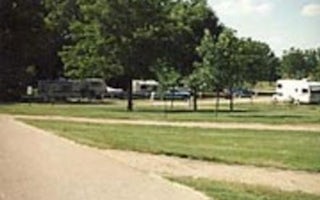 Alma, Nebraska
Overview Methodist Cove Park is located on the west side of Harlan County Lake by Alma, Nebraska. The 13,000-acre Harlan County Lake is t...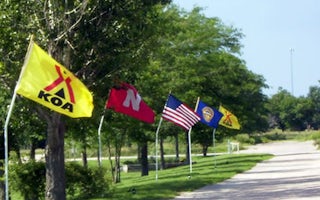 Doniphan, Nebraska
Just a stone's throw from convenient I-80, Grand Island KOA has everything you need for a great stay whether you are passing through or o...
Unfortunately, we don't have up-to date pricing data for this listing, but you can check pricing through Recreation Gov.
Book Now